When working with a new client, SEO forecasting might be a process to consider as it gives clients an estimate of results before you start an SEO strategy.
Although forecasting is a useful process that can help give your client an idea of their website's future performance, it poses many questions as to how much you trust the future picture of such performance. Especially when Google algorithms are constantly changing, as it's been reported by SEMrush data that Google updates its algorithms thousands of times every year. 
While many experts encourage SEO forecasting, it is purely an approximation of website traffic and ROI. And is not going to be 100% accurate. 
On top of that, there are a number of factors that can skew that approximation. This raises the question: is it still worth investing time and money on?
We break down in this blog whether SEO forecasting is worth bearing in mind when starting a client strategy.
What is SEO Forecasting Exactly?
SEO forecasting entails using analytical data to predict a client's potential website traffic performance and ROI based on seasonal trends, patterns and keyword rankings that occur over time.
However, SEO forecasting needs to be taken with a pinch of salt, as this is just a prediction based on the results that a client may gain depending on whether everything in our current climate remains the same.
Why It's Considered Beneficial for Many Businesses
Many SEO experts support forecasting as a way of acquiring new clients. It can be especially helpful when building proposals as potential clients value seeing data insights. 
For many clients, it allows them to gain a greater understanding of how they can improve certain aspects of their website in order to eventually achieve better web results and become a market leader in their industry.
Forecasting puts into perspective how they can strategise SEO in the long run through collating both first-party and third-party data, through a range of tools such as Google Data Studio, Ahrefs, Prophet by Facebook and many more.
Investing time into SEO forecasting gives clients an estimate of what ROI can be achieved and how they can adjust their marketing budgets accordingly to target their goals and objectives.
Why Forecasting Has Drawbacks
Although forecasting has many advantages that may be helpful when giving a client an estimated figure on how much ROI they can achieve. This is still purely based on prediction.
Below we've identified common issues that arise with SEO forecasting:
Changes in Google's Algorithm.

Google tends to have algorithm updates every month. However, it's difficult to know when exactly they will take place. This disrupts all the hard work that marketers put into their SEO forecasting efforts, as these updates are unanticipated and often opaque. 
The graph below illustrates the unpredictability of their updates when the Digivate website was searched on Google during the month of January 2022.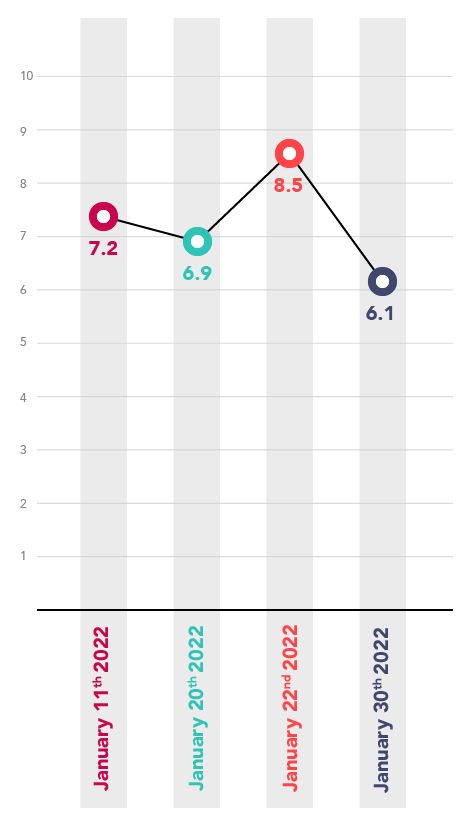 Therefore, it's important that clients keep this in mind and that they aren't fixated on estimated website traffic numbers they could gain.
Keyword Popularity Changes. Keyword research is a vital task to carry out as part of your SEO services. Such research can take from 2-6 months. During this time the popularity of keyword rankings can fluctuate due to changes in search users' intentions and needs when looking for certain topics and businesses on search engines.

Lack of Background Information When Working On Client Websites.

Marketers are sometimes only able to gain a top-level analysis of a client's websites. They are unable to perform full audits, which makes it

harder for them to understand the inner workings of how a website operates before they even start working on them.
This can prove to be even more difficult when SEO specialists work with clients in different industries, such as health and wellness. This is because they can be unaware that their website contains spam links and false claims, which can jeopardise a client's rankings. Therefore, search engines detect such websites as being illegitimate.
It's pivotal that clients in industries that require accreditation or sponsorships reveal this on their website to prove the authenticity of their company.
Lack of Involvement From Clients.

When initially working with any client, you never know how proactive and communicative they will be when working together. 
SEO forecasting is a difficult task to undertake as it includes diligently taking web traffic data and turning it into digestible information for clients with lots of context and reasoning. It's essential for clients to understand how substantial a task forecasting is, and be willing to communicate with SEO specialists in order to achieve the predicted web traffic results they want.
Competing for SEO Rankings with Competitors.

With any client website, there will always be competition. However, SEO forecasting predicts how a website's organic traffic will perform depending on whether everything will remain the same.
Hence, a forecast is unable to predict what a competitor might start to implement into their SEO strategy in order to attain a higher ranking than your client's website on search engines. For example, a competitor could invest 3 times more into their SEO strategy, allowing them to gain more traffic towards their website. As a marketer, this is an unanticipated external factor that is outside your control.
Well, there you have it, although SEO forecasting may work for some businesses, it is worth considering that it's a complex task to undertake. 
When it comes to developing an SEO programme, it is necessary to test many SEO marketing strategies such as regular keyword researching, link building, content creation, etc to review what works well on a client's website. Of course, this will also depend on the ever-changing demands of search users. 
As this blog post has highlighted, SEO is essentially an accumulation of many external factors.
We're sure that you've heard the phrase, 'that we're living in unprecedented times' due to the pandemic. This has emphasised how different factors change our consumer behaviours and habits. 
Inevitably, it has been difficult to predict the needs behind a search user's intent, which are dependent on the constant changes that are happening in the world around us. Ultimately, this makes it harder to develop a reliable forecast.
If you're interested in finding a great SEO strategy in order to achieve the best results for your business objectives. Feel free to get in touch with us today for our SEO expertise and fill in this form. Or call us on 0203 691 0412.