Rubix
How a decoupled CMS delivered

1,456% increase

in site speed for Europe's number one industrial supplier whilst meeting their security and site editing needs
The background
Operating in 22 countries, from over 650 locations with a turnover of €2.3 billion in 2018, RUBIX Group is Europe's largest supplier of industrial maintenance, repair and overhaul (MRO) products and services.
RUBIX Group came to Digivate with the goal of modernizing its website. They wanted to improve the management of their site's back-end with the added caveat of keeping the same look and feel on the front end.
A key part of making the website more manageable for RUBIX was moving away from single, scrolling pages to something more dynamic and user friendly. The restrictive elements of these pages were stifling the site's performance, as well as its SEO.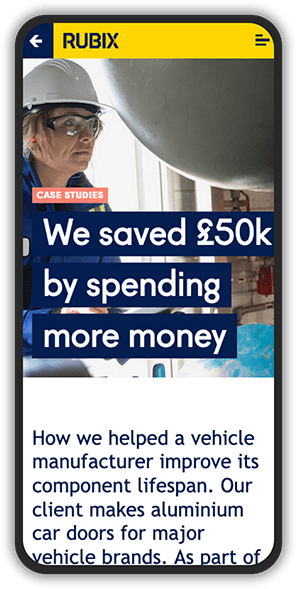 What we did
Firstly, given the nature of RUBIX's website content, we decided to forego traditional content management systems (CMS). Instead, we went with a decoupled approach to keep the site's current content and style intact.
To prevent any future complications for RUBIX's site, we opted for WordPress as our CMS of choice. This allowed us to rebuild the website fairly quickly, whilst exporting a static version of the site – offering greater performance and security benefits.
Finally, we restructured their website by separating their old long-scrolling single pages into different subpages. That enabled easier and clearer navigation through the site, and provided us with more opportunities to implement more SEO-friendly content.
Overall, by bidding farewell to their pre-existing website structure, RUBIX saw a +37.59% improvement in organic traffic. This significant rise demonstrates how both search engines have a preference for faster loading pages allowing RUBIX to have the ability to rank for a wider variety of keywords.
BEFORE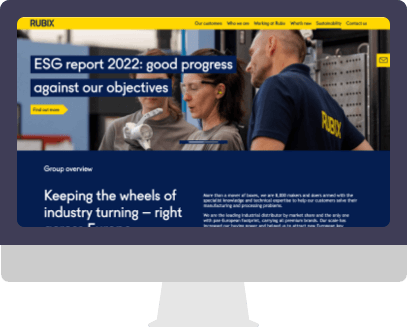 AFTER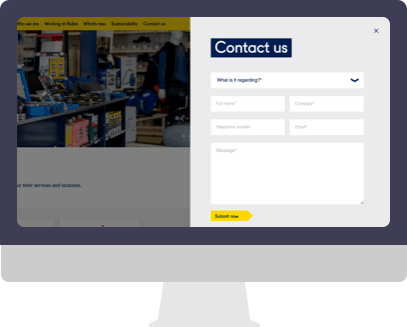 The results
The new site hit the ground running by acing Google's Site Speed test with a near-perfect score of 98/100. The enhancement led to significant drops in bounce rates, higher engagement metrics and generated more organic traffic over time.
14.8%

drop in bounce rate

98/100

Google site speed score

+37.6%

increase in organic traffic

792

keywords in SERPs