Rubix Bearings
How we invigorated Europe's leading industrial bearings website by creating various landing pages with over

24,000 organic sessions
The background
Operating in 22 countries, from over 650 locations, RUBIX is Europe's leading industrial supplies and services specialist.
They keep the wheels of industry turning by holding the largest, most comprehensive bearings stock of any European industrial distributor. For over ten years they have delivered over €70m of bearings related cost savings to their customers.
Following the success of the RUBIX Group website rebuild, RUBIX came to us with their vision of creating a landing page that highlights their work of supplying and distributing industrial bearings.
RUBIX wanted to put a spotlight on their bearings, as they are a significant part of their business, with more than 100 million bearings being sold per year.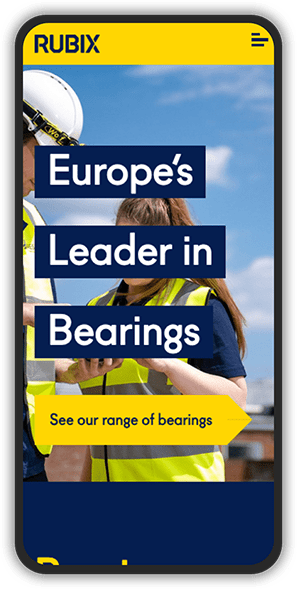 What we did
What started as a single landing page evolved into a fully-fledged website that covered the world of Rubix Bearings in extensive detail. Visitors were now able to download resources, read case studies, receive updates on specific industries and access RUBIX's full range of products.
The new website was built with a de-coupled approach, meaning the WordPress content management system (CMS) and front-end website were separate. This gave users a faster browsing experience whilst allowing us to implement a number of security improvements.
Due to their reach across Europe, the Bearings website also needed to be translated into and available in a number of languages.
An interactive map was also implemented with geolocation capabilities that highlighted which country the user was from. The map would then direct users to their regions' relevant online stores.

The results
24,000

organic sessions gained

7.6%

click to translation site rate

686

resource/map clicks
Following its evolution from a simple landing page, the Rubix Bearings website grew into a multi-language platform (7 languages currently, with many more to come – watch this space) that effectively directed users to its online stores and resources.
The new site flawlessly communicated RUBIX's ability to help different businesses lower their costs and increase productivity.