Neocase
How we

doubled conversions

in only 6 months for a B2B SaaS HR Solution by using an integrated marketing approach
The background
Neocase™ Software is a leading provider of HR and Finance service solutions for large and midsize organisations to deliver a better employee, customer, and supplier experience in addition to standardising and automating processes to reduce costs.
Neocase wanted to work with an established digital marketing agency that can offer a holistic solution to improve their website performance. In particular, Neocase wanted to increase leads for 3 their main software products: Neocase HR, Neocase HR Ready, and Neocase Finance.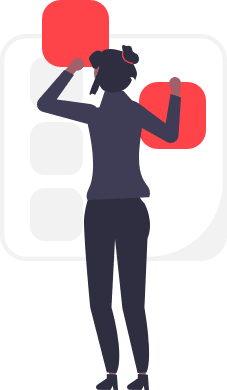 What we did
Reducing friction in the website funnel to get users to sign up for demos
To increase the number of leads for the 3 main products, we needed to take an integrated approach to digital marketing and help customers move through the various stages of the buying process.
In particular, our goal was to increase the number of demo requests, case study downloads, and contact us form submissions on all website pages. To achieve this, we integrated our expertise in conversion rate optimisation (CRO), search engine optimisation (SEO) and pay-per-click advertising (PPC).
CRO – what we did
Reduced friction in the website funnel – we reduced the steps needed to complete conversion, as well as shortened and improved the forms.
Enhanced the value of the offer – we made sure that upon entering any page of the website, users can answer the following questions:
a) what Neocase does
b) what makes Neocase unique
c) and why the user should choose Neocase over the competition
Identified and fixed main user experience (UX) issues – we made all 3 sets of contact details (in the U.S., U.K., and France) equally visible on this page.
Included a call-to-action above the fold on every lead generation page
Improved copy and content on main lead generation pages – we rewrote the copy to best explain what Neocase does and replaced the existing diagram with a clearer table.
Updated the blog to a two thirds/one-third split, with the blog posts running down the left-hand side in a single column – equally weighted options typically mitigate conversions as they reduce the user's ability to sequence their thoughts and control the order of their thinking and as a result – distract from the purpose of the page.
SEO – what we did
Fixed main technical SEO problems – this included adding or improving metadata on existing pages, installing Accelerated Mobile Pages plugin to increase search visibility on mobile and tablets, adding Schema mark-up on the website, renaming images for better search visibility, and fixing 301 redirect chains.
Removed all toxic links pointing to the website – links coming from spammy websites can decrease rankings, so regular backlinks audit is crucial.
Acquired over 40 high-quality backlinks to important pages – by utilising 2 link building techniques – broken backlink and unlinked brand mentions technique – we acquired over 40 free high-quality links in only 2 months.
Increased search traffic to 3 main lead generation by improving the existing content – we included important high-volume keyword themes and topics into the existing pages to increase search traffic.
Created blog strategy and content calendar – we analysed competitors, identified high-volume yet low-difficulty keywords, and created a 6-month blog content calendar to generate search traffic.
PPC – what we did
Promoted the 3 main products across Google Search, Display (remarketing), Social media, and Gmail – our thorough audience targeting and daily campaign optimisation on each platform allowed us to keep conversion rate at 3.4%, which is 4x higher than the B2B software industry average.
The results
In just 6 months, our paid and organic marketing approach generated almost 102% more leads. Our integrated approach to CRO & SEO helped us to double organic year-on-year conversions.
Over a 12 month period, our SEO work helped Neocase overtake all their competitors on the 1st page of Google for high-volume transactional keywords and as a result increased organic sessions by 61%.
+102%

more leads generate in 6 months

+61%

increase in organic sessions