Bayer Breelib
How we attracted

71.4% referral traffic

by building an accessible website for a leading medical company
The background
Breelib is a medical device – known as a nebuliser – owned by the pharmaceutical company Bayer AG. A nebuliser turns liquid drugs into a fine mist which patients breathe into their lungs to help their symptoms.
Bayer AG came to us and needed a website to present all the information to their patients regarding their Breelib product. Before the site overhaul, the site only dealt with technical and highly important medical devices, hence the information had to be presented to users in a clear and understandable fashion.
Bayer AG's website needed to accommodate their target audience, with accessibility and ease of use being a priority. Ultimately, users would need to understand how to use a Breelib, how to set it up and more importantly, what to do if something goes wrong.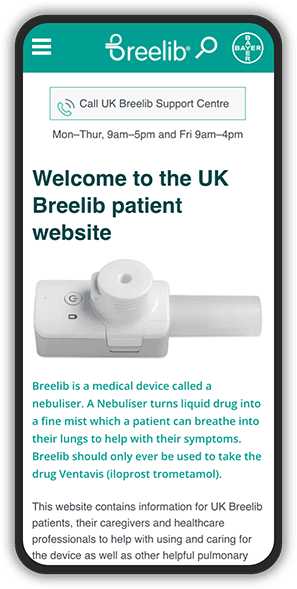 What we did
We kickstarted this project by choosing to use a TeamSite content management system (CMS). TeamSite helped to create a fully editable site that presented users with clear and understandable resources to help patients learn how to use the Breelib nebuliser.
To achieve this, we implemented an interactive troubleshooting section with descriptions and videos to guide the patients through the troubleshooting process to either find a solution or present them with options. This also involved creating a video call request form to give the patients an option to receive video call help within 1-2 hours.
To cater to Breelib's target audience, we used large elements in our layouts alongside accessibility, ease-of-use elements and custom iconography.
Additionally, we carried out an SEO strategy to improve the site's visibility on Google by adding alternative text onto images and including compelling meta titles and descriptions to grab potential site visitors' attention.
To improve accessibility with the user experience we restructured the website content with H1 titles, removed unnecessary extra whitespaces from the site's URL and submitted an extensible markup language (XML) sitemap to Google Search Console, ensuring that the sites structure can be identified by Google.

The results
+71.4%

visitors from referring domains
The end result was a fully responsive website that gives patients all the information on how to use, how to troubleshoot and travel with the Breelib device. By creating interactive troubleshooting sections with accessible videos and imagery, patients are able to access relevant information without any complications.
Additionally, SEO work was carried out on the site in collaboration with Digivate's Digital Marketing team to ensure the user experience was as smooth as possible.