Upfield
How we helped a global brand launch their new corporate identity online to achieve a

28.5% increase in organic sessions
The background
Operating in 95 countries, Upfield is the world's largest plant-based consumer packaged goods company. Upfield owns some of the most popular brands of margarine and other food spreads, including Flora, Blue Band, Stork, Becel, Country Crock and I Can't Believe It's Not Butter! (Neither can we)
Upfield came to us with a request to build a corporate and investor relations website following their transition from the Unilever brand.
This new site would be a key strategic element in their migration, educating employees, shareholders and customers on the new brand's values and vision.
Upfield also needed specific contact functionality to connect their enquiries directly to their customer care team. Not only did the contact area require security on an enterprise level, but it also required being available in over 40 languages, whilst connecting to many regional websites under the Upfield umbrella.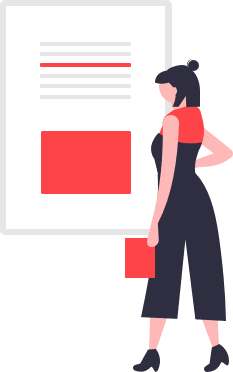 What we did
We decided to use WordPress as our content management system (CMS) of choice as Upfield was familiar with the platform, having used it in the past. Hosting and security tweaks were then carried out to ensure compliance with their strict security requirements.
The site, as it previously stood, made use of reusable components such as call to action blocks (CTA), galleries, dividers, etc. To make the website manageable for the Upfield team, we standardized all of these components to avoid having completely different templates for every single page.
After the website launch, we focused on building a robust contact form that connected customers directly with Upfields's customer care team. The form was designed to be as easy to use as possible, guiding users to only submit relevant information related to their query. We used methodological enterprise-level security measures to ensure that the data taken from these forms were delivered into safe hands.
The form then grew into a central contact hub for Upfield's numerous regional websites, allowing customers to easily submit feedback in over 40 languages.
Following the site's refresh, we utilised Greenhouse API integration to fetch all the jobs from Upfield's central jobs database to make listing and application submission possible. This allowed us to customise the visuals on the website, while still keeping the entire process centralised on their job platform.
Finally, we improved their investor relations portal to make it more user-friendly, aesthetically pleasing and easier to use.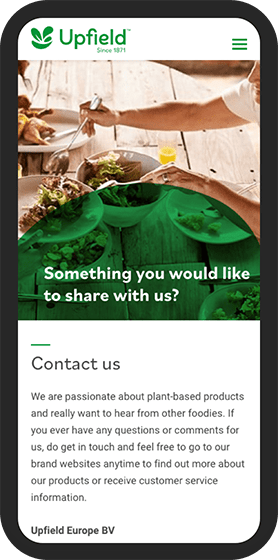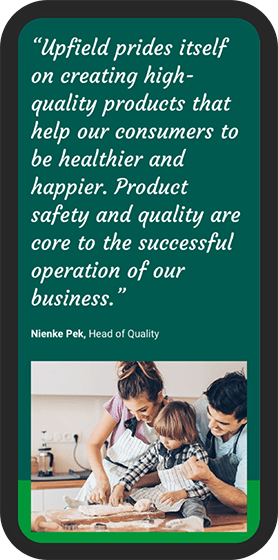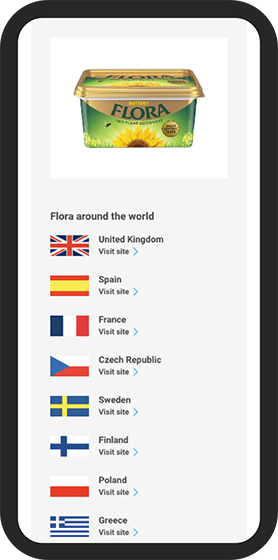 The results
+ 28.5%

increase in organic sessions

+ 6.78%

increase in average session durations

– 4.62%

decrease in bounce rate
Overall, the website revamp established Upfield's new values and vision to both external and internal stakeholders as well as providing crucial business interactions such as job searches, product enquiries, and investor and media relations. We also succeeded in streamlining the site's back end, making it easier for Upfield to edit content.
In the month following the launch, we saw engagement metrics rise with a +28.5% increase in sessions and a +6.78% increase in average session durations. The site's overall user experience vastly improved with a -4.62% decrease in bounce rate.