Mr Wet Wall
How our CRO-led web build

resulted in 156%

more revenue

for Australia's leading alternative to bathroom tiles.
The background
Operating in Perth, Western Australia, Mr Wet Wall is Australia's leading online retailer specialising in wet wall panels, vinyl flooring, ceiling panels and DIY bathroom refurbishments.
Mr Wet Wall came to us with the goal of increasing their conversion rate. They were spending large budgets on TV, social and search ads, and wanted to get a better return for their investment.
Mr Wet Wall needed to scale quickly – and as such, needed a website that would support their ambitious growth plans.
The client also had the unique challenge of selling a product that required a high-level of DIY knowledge from their customers – as such, they struggled to communicate the value of their product over traditional tiles on their website.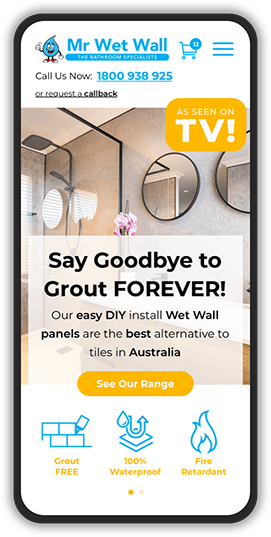 What we did
The first recommended solution was our sought-after CRO 'quick wins' audit. From this audit we applied the 'lowest hanging fruit' first – updates to the homepage, category page filters, product page and checkout were our first port of call.
Usability and site speed were two of the main contributing factors that impacted the website's conversion rate. It lacked compelling visuals, trust signals and product marketing to educate visitors on the product's uses and benefits. As a result, Mr Wet Wall was missing out on opportunities to educate and convert website visitors.
Once the client saw a good return on investment from the initial CRO work, we opened up conversations about moving away from Wix, and onto a more sustainable e-commerce platform that could better meet the client's needs: complex shipping integrations, easy-to-manage product catalogues, a fully customisable shopfront, SEO-ready pages and lightning-fast load times.
Wix's restrictive features stifled the site's SEO, search visibility and sales. We knew that we'd need to create a mobile-friendly site, moving away from a confined content management system to one that's more dynamic and user friendly.
Our UI designers developed wireframes in conjunction with our CRO team and delivered an updated look and feel, rich in product imagery and reinforcing the brand's core benefits.
Our developers then built the pages in WordPress and Woocommerce, integrating the site with Xero, Retail Express, and TNT APIs. The site provided a fully integrated business inventory for the client, with transparent reporting on revenue, stock and shipping – saving hours of admin and manual booking.
BEFORE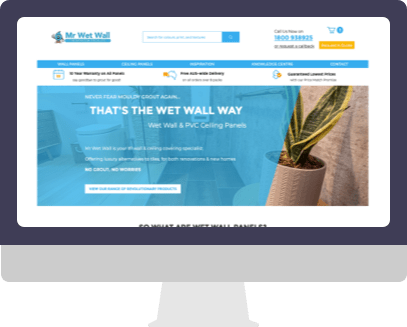 AFTER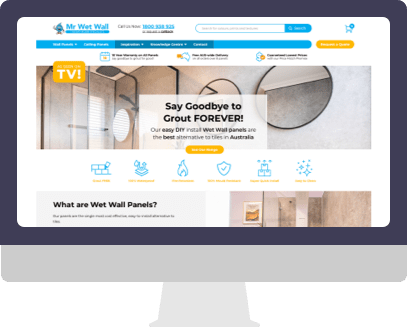 The results
Mr Wet Wall began generating more customers, traffic and revenue instantly.
-53.7%

Decrease in Average Page Load Time

+37.3%

Increase in Conversion Rate in the first 2 Weeks

+54%

Increase in conversion rate year-on-year

+156%

Increase in revenue

+36.9%

Increase in Google Site Speed Score