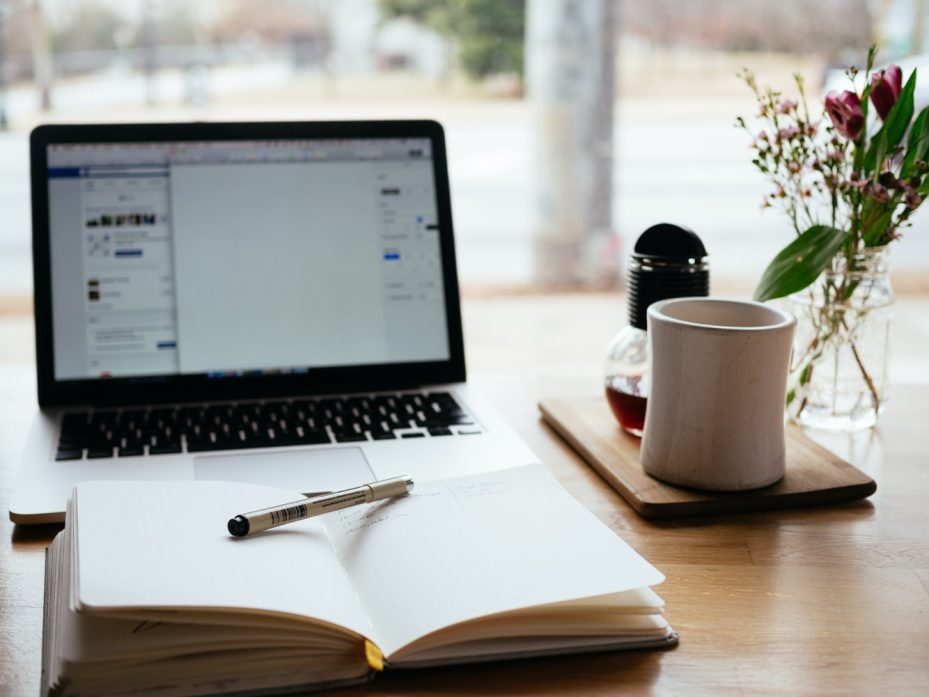 Many businesses neglect content marketing in favour of paid advertising. 
And even when businesses realise the value of developing a content strategy plan, they don't know what to do.
Instead of analysing their customer profiles, the state of their business and their industry, they jump straight into execution.
This type of "strategy" is doomed to fail from the start. 
By following this step-by-step guide, you will avoid costly mistakes and have all the tools to build a winning content strategy from the very beginning. 
But before we start, let's go back to basics …
What is a Content Strategy?
A content strategy is the statement document that informs your content creation and marketing.
Your content strategy document needs to demonstrate the following:
WHO YOU ARE (company mission and vision)
WHAT YOU DO (including unique value proposition)
TARGET AUDIENCE (which types of people buy from you)
CUSTOMER BUYING JOURNEY (how people buy, do they go through the stages?)
BUSINESS OBJECTIVE (what do you want to achieve)
S.M.A.R.T CONTENT MARKETING PLAN (S.M.A.R.T stands for specific, measurable, attainable, relevant and time-bound; during this stage, you decide what type of content should you create at different buyer stages to achieve your business objectives).
DOWNLOAD FREE STRATEGY TEMPLATE
Whether you produce blog posts, podcasts, videos, downloadables, a content strategy will help you to publish content that addresses your customers at key parts of the purchasing process. 
A content strategy should be constantly evolving as you learn what type of content marketing works for your customers and your business. 
What is the Difference Between Content Marketing and Content Strategy?
Content marketing and content strategy are often used interchangeably.
In reality, they refer to different stages of the same process. 
Content marketing is the process of planning, creating, and distributing valuable information, with the aim of acquiring a clearly defined audience. 
A content strategy, on the other hand, is the document that informs your content marketing and tells you what content you need to produce, when it needs to be published, and where you should make it available. 
Simply put, content marketing is to content strategy what furniture is to a house. A good content strategy is the foundation of content marketing.
High-quality content that addresses the needs of your customers builds trust and drives action at every stage of the buyer's journey.
How to Develop a Content Marketing Strategy – Step-by-Step Guide
Here's the checklist we follow when we develop or update content strategies for our clients.
STEP 1: Define Your Company Mission
Before you start developing a content marketing plan, you should define your company's mission. More specifically, you should ask yourself these 2 questions to help you understand what information you need before you start creating content.
1. What problem does your product solve?
Your product or service solves a problem for one (or more) of your target audiences. So, at this stage, you should note down which audience(s) struggles with this problem, which of your products/services offers the solution, and how you can help them to identify that they have this problem in the first place. 
2. What makes your product/service unique?
Ask yourself: how are you better than your competitors? Your content marketing strategy should highlight how you are better than your competitors.
STEP 2: Understand Your Target Audience
Your target audience or audiences are groups of people who will benefit from your product or service. 
The buyer personas we develop at Digivate are more than a semi-fictional representation of your ideal customer.
Our unique MIND approach to target audience research is rooted in real customer data, which enables us to personalise your marketing at scale
DOWNLOAD OUR FREE PERSONA BUILDING GUIDE
 Your content needs to cater to different types of buyers at different buyer stages.
Below are 2 ways to understand your audience better:
Conduct Keyword Research
Keyword research is the process of researching what your target audience is looking for when they use search engines. 
When conducting keyword research, you want to be able to answer the following questions:
What is my audience searching for?
Why are they searching for it?
How many people are searching for it?
How competitive is this keyword to rank for?
At Digivate, we use SEMRush and Ahrefs for keyword research, but you can also use limited but free tools like Ubersuggest and Soovle for that.
You can then use keyword data to map out and structure your content strands per each audience.
Use Google Analytics to Understand Your Current Audience
You can easily check your current audience key demographics, behaviour, and interests on Google Analytics. For example: 
Age,
Gender, 
Geographical location
Interests/Affinities
Shopping and spending habits
Search terms
Behaviour
Technology (which browser and operating system they use)
STEP 3: Map Your Customer Journey and Create a Sequence
Every customer goes through a similar journey – known as the buyer's journey – when they purchase a product or service.
However, this journey varies depending on your industry, competition, the price, and the nature of your product.
For example, if you sell B2B software, you will likely have over 3 customer touchpoints before a purchase is made.
If, on the other hand, you sell inexpensive consumer goods online, the buying process is more immediate.
Once you understand who you're selling to, you need to understand the process that they go through from initially discovering your product/service to the point where they actually decide to buy it.
At any moment in your sales funnel, there is always a group of people who are:
a) unaware that your product can solve their problem
b) aware of your business but are evaluating their options
c) and finally – a group that is ready to buy
This means that at any time, your business has the potential to attract 3 types of customers: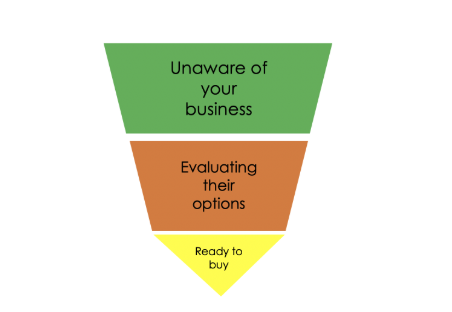 So, if you only concentrate on acquiring new customers – that is, catering to the buyers who are unaware of your business – you'll lose out on other revenue streams. 
If you're not creating and promoting content across all three buyer stages, then you won't be able to measure the performance of your content marketing strategy. 
Unfortunately, many companies make the mistake of only creating top-funnel content for people who aren't aware of their business and miss the 2 crucial steps below.
As a result, they are left with an incomplete strategy that misses out on better conversions and ROI. 
Let's look at the buyer funnel in more detail …
Awareness (Top-Funnel)
At this stage, you want as many potential buyers to see your content as possible.
Visitors aren't aware of your brand, and they certainly aren't aware of the solution you can offer them. They're looking at your content because they're searching for answers, resources, opinions, and insights, with no specific goal in mind. 
So, the content you create here should be focused on problem-solving so you can build brand awareness. 
Depending on what your target customers prefer, this content can take any form, from blogs, e-Books, podcasts, videos, and infographics. 
Consideration/Evaluation (Middle-Funnel) 
This is the stage where you'll be generating leads. 
At this point, you need to determine what a lead means to your business and create a lead magnet. A lead magnet is a valuable resource that your target audience wants, which could be a downloadable, a time-sensitive offer, a trial, or anything else. 
Ideally, you want customers to take some sort of action without spending money, but they need to do something specific for us to classify them as a lead. How customers classify as leads will be unique to you. 
The metric you want to track during this stage is the number of qualified leads you generate through lead magnet content.
Action Stage (Bottom-Funnel)
Your ultimate goal here is to convert qualified leads into paying customers. So, the content you create here should facilitate conversions. 
Examples of content at the action stage are comparison sheets, reviews, demos, product pages, customer stories, and testimonials. 
At this stage, the metric you should be tracking is the number of conversions.
STEP 3: Define Your Content Marketing Objective
Once you understand your mission, unique value, audience, and business objective, you can now decide what your content is going to do for your business.
Your content marketing objective needs to be S.M.A.R.T (specific, measurable, attainable, relevant, and time-bound).
Example of the S.M.A.R.T content marketing objective:
"By September 2021, we want to increase sales by 30%. To achieve this, we need to increase our traffic by 100% by investing in SEO content, lead generation, email marketing, and CRO."
During this stage, you would also need to consider the resources you have available to work towards these objectives. 
HELP ME WITH MEASURABLE CONTENT STRATEGY
STEP 4: Pick Your Marketing Channels and Content Formats
 Picking the right marketing channels and formats is important.
 A marketing channel is a place where you publish your content. This can be something you own, like your website or blog, or an external channel like 3rd party publishers, Facebook, Google, Instagram, or YouTube. In fact, YouTube is the dominant video marketing platform, with 90% of video marketers trusting it.
External channels allow you to go where your audience is and help them to find your business.
Content formats are how you present your information. These can be written words, audio, videos, infographics, books, quizzes, polls, or public speeches.
For example, video content is great for tutorials, podcasts are well-suited for interviews, and blog posts are perfect for FAQs. 
All of these formats have different costs and resource requirements, so you need to understand what you want to publish, why, how it'll help you achieve your goals, and which marketing channels that content will need to be posted on. 
STEP 5: Create a Content Calendar
Once you've got ideas for content and know what you want to publish, you need to plan who will create content and when you'll publish it. 
This is often the lengthiest stage as you figure out who is responsible for what stage of the process, but it's worth it to keep your content engine running smoothly. 
At this stage, you need to define your workflow process, allocate project owners, and assign deadlines.
STEP 6: Create and Publish Content
Throughout the year, you are likely to create different types of content. These may be:
1. Time-sensitive content
Time-sensitive content pieces are things like news, product, and industry updates.
These content pieces will be relevant for a short amount of time but will either require frequent updating or new pieces of content to address changes.
2. Evergreen content
Evergreen content is content that is always relevant, and as such may not need updating as often.
Evergreen content is great for steady search traffic and is a great source of brand awareness.
3. Seasonal/Holiday content
Seasonal content focus on popular holidays, like Christmas or New Year's Eve.
The holiday you choose to focus on should always be relevant to your audience and business.
PS! Niche holidays like 'Vegan awareness days" may also appeal to your target audience.
DOWNLOAD FREE STRATEGY TEMPLATE
STEP 7: Distribute and Promote Your Content
Effective content distribution is important if you want potential customers to find you.
There are a few different ways you can distribute and promote your content:
1. Paid distribution
You can use cost-effective PPC advertising across search engines and social media to drive traffic to your content.
You can also use paid content discovery tools like Taboola and Outbrain to get in front of your target audience on 3rd party websites or buy media on popular websites and forums like Reddit directly.
2. Organic distribution
You can also get in front of your audience for free. You can use your own blog, social media accounts, PR coverage, and email to promote your content.
3. Influencer marketing
Paying influencers to promote your product can help to get in front of a specific audience. Influencer marketing is modern-day word-of-mouth – a recommendation from a trusted personality is considered a more genuine form of online advertising.
4. Content Syndication
Content syndication refers to republishing content on third-party sites. You may extend the audience for your content and make it visible to new audiences by reposting information like blog articles, how-to instructions, and videos.
Create material that is useful and helpful to your readers. To ensure that you are posting educational, informative, and valuable articles for your audience, you can consider using content syndication services.
STEP 8: Measure Results and Adjust if Needed
Content marketing needs to improve your revenue. That's the bottom line and the ultimate purpose of content marketing.
If your content doesn't help you to reach your business goals (or you're unsure how to attribute your sales to content marketing in particular), we can help you. 
We can analyse your current content efforts and make adjustments to your approach so you can return a positive ROI and prove to stakeholders that your content strategy is worth the time and money.