The launch of the new Pokémon Go app a couple of months back opened the doors to a digital revolution, completely hypnotising people across the world.
The app built on Niantic's real-world gaming platform uses real-life locations to encourage users to go out into the world to find and catch various different Pokémon. In just the first three days of launching, the app generated 21 million daily users, more daily users than Twitter, and it also managed to sustain more engagement than Facebook. In addition to causing mayhem on digital platforms, it also left a dent in the gaming world; Candy Crush was kicked to the curb, a game which previously held the title for the biggest mobile game ever.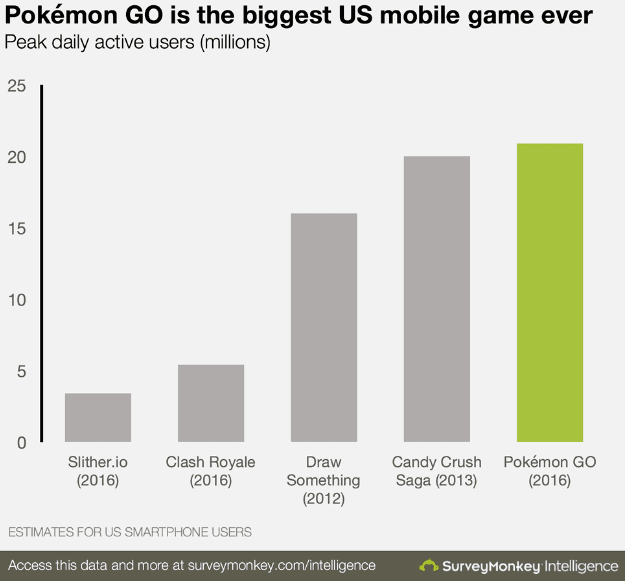 How has Pokémon Go hypnotised its users?
The most notable hypnotising mechanism used by Pokémon Go is its augmented reality feature. Although there were talks about Snapchat being the first platform to introduce augmented reality to the digital world with Snapchat Lenses, they were unable to hypnotise users in the same way Pokémon Go has. In that being said, there are a few that may argue that the Pokémon Go app doesn't feature actual augmented reality. Augmented reality is a technology that integrates digital information with the real world environment; it uses components augmented by computer-generated sensory input such as sound, video, graphics or GPS data. This sounds like the Pokémon Go setup right?
The Pokémon Go app cleverly uses Google maps to integrate the real world with its virtual world, resulting in the user's environment becoming interactive and digitally manipulable. This has resulted in adventure and excitement for users mainly aged between 18-24, an age group who normally reject direct advertising. We have seen some advertisers take full advantage of capturing this new target audience, enabling Nianatic to generate £37.8m in revenue in just 7 days of Pokémon Go launching. There are certain features of the game that make it easy for advertisers to attract users; it simply involves purchasing lure modules which attract users to a desired location for 30 minutes where they will collect rare Pokémon specimens. It is clear that the brick and mortar businesses have been able to capitalise on the Pokémon Go app, but the real question at stake is whether there is longevity for small businesses to keep capitalising on this new form of advertising. Will the hype die down as quick as it began? Through our digital marketing spectacles, we foresee Pokémon Go becoming far more effective in the digital world, and below we have highlighted some ways in which we would capitalise on the trend in the near future:
Identifying our Audience
Identifying who your audience is, is the starting point of any digital marketing strategy; as the Pokémon Go app has access to geographic data we could use it as a method to discover our audience. If a user is capturing Pokémon during an interval at a Justin Bieber concert, then you will know that the likelihood of them being a female between 18-21 years is high. This is the first thing that caught our eye because it's the building blocks of digital marketing; if you don't know your audience, how can you engage with them or cater to their digital needs?
Time target our marketing
The art of catching Pokémon's is being in the right place at the right time, whether that's at a Pokéstop in a café or a Pokégym in the local park. Once businesses make their business location a Pokéstop or Pokégym, it will automatically make it easier for marketers to have an insight into where users will be at a given time. When implementing any campaign, whether it's for paid search or email marketing, it is highly important to send out these campaigns when your target audience is most active. If a user is actively using their phone to capture Pokémon's at a café, the cafe could easily use this opportunity to entice users to purchase something. This strategy would be highly effective once the Pokémon Go developers activate sponsored ads.
Advertising directly
The opportunity to advertise to users directly is probably the strongest potential feature of the Pokémon Go app and the most likely to come into play according to Mr Hanke, the CEO of Niantics. There are many ways to directly advertise to users, whether it's through Facebook advertisements or Google paid advertisements. Let's look at Facebook, as there are loads of potential Facebook strategies that could be executed. Facebook is one of our favourite forms of advertising here at Digivate, just because we have found unique and creative ways to make it cost effective for our clients. In this case, we would use Facebook localisation ads as a way of informing users at a Pokéstop about an event taking place. Facebook's localisation ads is an efficient way to easily make people aware of what is going on in your business. For example, if 'UK Sports' was having a sale on men's trainers, by using Facebook localisation ads you could schedule the ads to target those at a Pokéstop who match the targeting of men's trainers, you could also set the ad to run between a set time that the Pokéstop is operating. You may think this is all hearsay but we call it creative advertising, targeting users with relevant advertisement through their favourite gaming app.
When it comes to utilising the Pokémon gaming app, there is a never-ending list of possibilities we hope that these points have got you thinking more about the opportunities that Pokémon Go presents as a digital marketing resource, rather than just a game.