From April 21st Google will effectively penalise websites that are not mobile friendly.
By expanding their use of mobile-friendliness as a ranking signal their new algorithm will favour mobile-friendly sites at the expense of unfriendly ones – so mobile-unfriendly sites can expect to lose organic search rankings and traffic via mobile phones after April 21st. It's not really a penalty but the impact on affected sites will be the same.
Google have warned that …
This change will affect mobile searches in all languages worldwide and will have a significant impact in our search results
Google | Webmaster Central Blog
That sounds like a very big deal. The consensus within the SEO industry seems to be that the impact will be greater than that of the previous Panda and Penguin algorithm updates – both of which caused a significant loss of traffic for a great many websites.
What You Need To Do
1. Check your site ASAP, using these free tools from Google:
Don't just check the homepage! These tools only look at one URL at a time. You need to check each of your important page-types (especially if your site draws content or functionality from other websites).
An e-commerce retailer should check:
The homepage
Category pages
Product pages, etc.
Blog pages
A B2B company should to check their service landing pages and blog pages in addition to the homepage.
2. If your site is not mobile-friendly then please talk to us ASAP for free advice.
It's important to make sure your website is mobile-friendly ASAP – especially if you get a lot of traffic from mobile phones.
You can find out how much of your traffic comes from mobile phones in Google Analytics: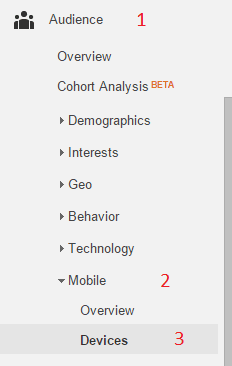 The Google mobile-friendly tool returns results from green through amber to red. If your site is green, you don't need to worry. Amber means you have some problems – we don't yet know how Google will rank Amber sites but there may be a loss of mobile traffic. Red means that you're sure to lose mobile organic search traffic from 21st April. You have an urgent SEO issue.
The majority of websites we've tested are NOT mobile friendly. So the impact of this is likely to be widespread and painful.
Big Business Boost?
It certainly makes sense to provide a better user experience to people using mobile phones – and Google's mobile-friendly push will surely encourage many more websites to become mobile-friendly.
But Google only announced their plans on February 26th, giving businesses about 40 working days to identify and resolve all their mobile-friendly problems. That's not much time at all, especially if you're a small business or you have a complex website (or one that draws content from sources that you can't control).
Since the initial announcement Google has been alerting some affected sites about their mobile problems via email alerts from Webmaster Tools. That email/message campaign is ongoing and more and more people are still finding out that there's an issue. But many will not realise how damaging the issue could be for their business.
In particular, it seems inevitable that many smaller businesses will get caught out. Many small businesses do not have the resources to deal with it at all, let alone quickly.
So this feels like another move by Google to favour big brands at the expense of small businesses.
They could and should have given everybody much more notice. A year would have been nice.