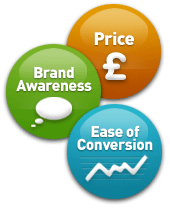 SEO (Search Engine Optimisation) represents the best investment available for your marketing budget because:
Every month's SEO investment generates visits and sales and the effects last for years – so success just keeps growing
Customers targeted with SEO are actively seeking to buy the things you sell – it's a match made in heaven.
There are three key factors in your marketing and broader business strategy that can make or break your SEO campaign and its ability to deliver conversions. Those factors are revealed in this infographic:
If the rest of your marketing mix fails to support conversions on your site then nothing you do can realistically be expected to deliver sales – not even SEO.
Without a comprehensive, integrated marketing strategy SEO is just dumping traffic on your site. SEO is a vital, strategic process – not a quick-fix or a one-off throw-away task. It needs to be properly integrated with marketing and broader business strategy.
These key factors – along with SEO are the magic formula for online success. But they have profound strategic implications, far beyond the silo walls of the marketing function:
1. Brand awareness
Brand awareness is the foundation of any effective marketing strategy – but strangely in SEO it is often overlooked completely. In SEO terms a lack of brand awareness severely reduces CTR (click-through-rate) and conversion rate. In the broader marketing context, if customers don't know your brand they cannot trust it. If your page ranks well it probably still won't get clicks because nobody's ever heard of you! Why would they trust you? Even if they click through to your site, do you really think they'll be happy to give their credit card information to a website they've never heard of? There are plenty of digital marketing opportunities enabling you to build a high-profile brand in a short space of time. Even with minimal budget the effects of digital brand-building campaigns can be viral and explosive, although with less budget naturally success is harder.
2. Price
Online buyers can easily compare prices, so you need to benchmark yours against your competitors on a regular basis – even if you're competing on other factors. Offline buyers use their mobile phones to check prices at the point of sale too. So it is essential to have competitive prices to succeed not just online but offline too. This highlights the strategic importance of a lean and efficient operation within the organisation. It highlights the need for an effective procurement strategy, the need to keep costs low. It may reveal a need to outsource, offshore or import goods or services – and even some non-core business functions.
3. Ease of conversion
You're building a well-known brand. You've benchmarked your prices and they're competitive. Having invested all that time and effort in bringing customers to the site and making a compelling case for them to buy, why do you make it so hard?! They want to buy your stuff. You want to sell your stuff. Come on. At this stage it should be easy. So don't make it hard. Choosing items, checking out and paying should be as quick and easy as possible. This is the whole reason for your site's existence. In many senses it's the whole purpose of your business. So don't put obstacles in between the customer and the sale. Whatever you're trying to achieve: a sale, a sign-up, a donation… if it isn't absolutely as quick, simple, obvious and inviting as it possibly could be, you've got work to do. Don't regard it as an extra cost. A good conversion process is the most basic, fundamental requirement for an effective website. Until you get it right everything else your organisation does to drive online activity is wasted! There are plenty of tools out there for A/B and split testing and CRO (Conversion Rate Optimisation) to test and improve the efficiency of your conversion process. So use them. Ask your customers what they think. At the very least, ask your friends and family.
4. (SEO)
For the reasons outlined at the start of this post, investments in other marketing channels cannot usually offer the same long-term growth potential as SEO investment. If you pay for a PPC, display or magazine ad, for example, the benefit of that investment is finite. With the exception of perhaps some lingering traces of brand awareness, other marketing activities cannot continue to deliver sales for months and years in the way that effective SEO campaigns can.
However, as revealed in the infographic, brand awareness and price are also vital. So wider marketing campaigns can be used to maximise the power of SEO if they're capable of increasing or maintaining brand awareness, or raising awareness of your ability to compete based on price.
Since SEO is by far the best use of your marketing budget, it is recommended that a substantial proportion of your remaining budget is used to support brand awareness, competitive pricing (and price awareness) and to streamline the conversion process.
I hope this post conveys the importance of an integrated strategy and the inter-dependence of the three key marketing factors. If you're doing SEO in isolation, or as a temporary project, then you're not doing SEO. If you're just building links, you're not doing SEO. If you've merely hired a link building agency to bury your site in a mountain of rapid, mass-produced bulk link spam then you're in serious trouble.
Make sure the activities of your SEO agency are coordinated with the wider business. SEO requirements must fed back, prioritised and actioned by the business. And business intelligence, data and the resources to make things happen must be available, with an organisational structure that supports an SEO-led marketing strategy.
Make no mistake. In the brave new online world, with offline sales falling and online sales soaring, with online ROI much higher than offline ROI, an SEO-led marketing strategy is vital to the success of virtually every business organisation.
The solution is to work with good SEO agency – one that is capable of being strategic and seeing the big picture. But SEO needs to be integrated, so just paying their fees isn't nearly enough. You need to listen to them. When they give you advice you need to move heaven and earth to make it happen.
SEO is absolutely essential to the success of your business – and we are the experts. But SEO won't work in isolation. Plug it into your business: support it, learn from it and, if necessary, let it transform your organisation into a new breed of digital enterprise. If you don't then one of your competitors will. And they'll leave you far behind. We are a leading London SEO Agency.