As 2015 has just arrived, let's take a look back on some of the most important news stories over the past year in paid search:
Adwords Editor 11 Arrives!
In early December, Google announced via their livestream that they would be launching Adwords Editor 11. Google states 11.0 is "the biggest update to the application since we released it in 2006." and it's hard to disagree. With the redesigned interface and the ability to open multiple windows to view different parts of your account it really does make life that extra bit easier for us marketers. These are just a couple of the various new and improved features of the new Adwords Editor.
Google roll out Shopping campaigns to all users globally
Late in 2013, Google introduced Shopping campaigns and made them available to a limited number of advertisers. In February these became available to users worldwide.
Upgrade of Product Listing Ads to Shopping campaigns
If you hadn't done already then by the end of August your PLA campaigns would have automatically upgraded into Shopping campaigns. Google transitioned to the Shopping campaigns and now they are an integral part of many accounts.
Bing Auto-tagging of destination URLs
Hooray! No more manually adding URL tags to your newly created ads. In June, the Bing Ads team launched auto-tagging for ad destination URLs which was the top request from advertisers for many years. We now have the ability to auto-tag destination URLs so that the data can be passed to Google Analytics.
Google launch dynamic remarketing across all verticals
In early October, Google released dynamic remarketing for all verticals. The verticals included are hotels, flights, real estate, classifieds, jobs, auto, finance and education. Google's tests to date have shown conversion rates double and CPA decreases of 60% from static remarketing compared to dynamic remarketing.
Goodbye third party call analytics software?
Well… Not quite. But back in August, Google released a new feature which will allow advertisers to track calls that occur after a user arrives on a website from an ad click for free. Website call conversions dynamically inserts a Google forwarding number on your website that measures the calls made by these customers. Whether they click on the number or dial it directly from their phone, you can attribute the call conversion and conversion value back to the keyword and ad that drove the customer.
Facebook announce a new campaign structure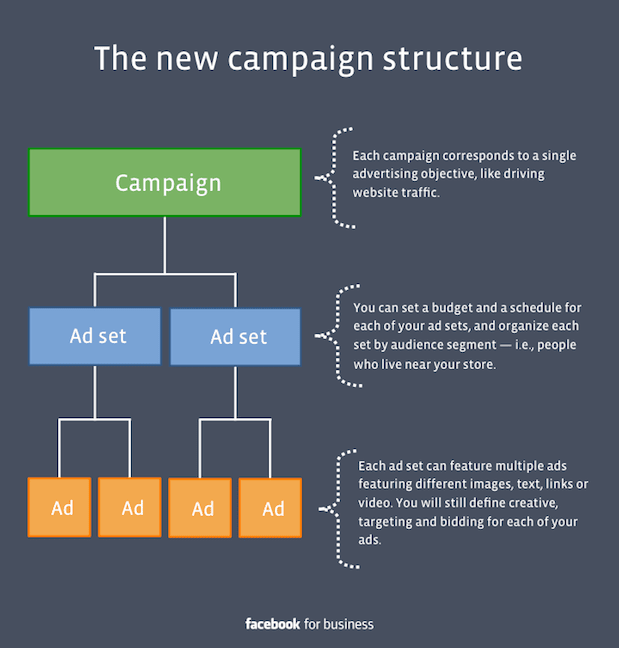 This change from early March sees the Facebook structure go from two levels (campaigns and ads) to three (campaigns, ad sets, and ads). The goal was to make it easier for advertisers to optimise campaigns. Further changes were made in October to the campaign structure so that audiences, bidding and placement for any campaign are now determined at the ad set level rather than ad level.
Bing rolls out Universal Event Tracking
In October, Bing Ads released Universal Event Tracking (UET), a way to define and track goals for performance and conversions. Universal Event Tracking replaced the previous conversion tracking functionality offered in Campaign Analytics. The new functionality supports the following four types of goals:

So there's the round up for 2014.