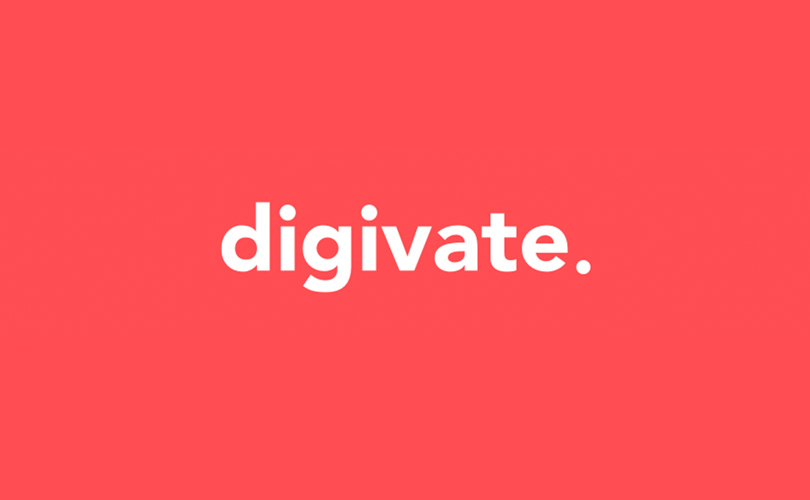 Voxburner 's 2017 Youth Trends Research Report – Newly Released Data
On the 21st – 22nd of March, Voxburner will be hosting their annual European Youth Marketing Strategy Festival, the largest youth marketing festival in Europe wi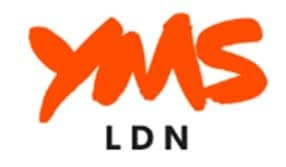 th over 1500 attendees expected to attend. It brings together industry thought leaders, top brands and innovative agencies to discuss the changing marketing landscape of one of the most difficult groups to target: 16-24's.
At their event, Voxburner will be releasing their 2017 Youth Trends Research Report, which provides marketers with unique insights into the lifestyle and digital trends of 16-24 year olds. We looked at the brand-new data snapshot Voxburner just released to marketers, to gain some initial insights into the behaviours of the young demographic.
Lifestyle Values
"I don't see the point in doing or immersing myself in anything if it doesn't better me or make me happier."
Halima Nabahan, 20, University of Sussex student
The 21st century quickly became known as the "knowledge age". With the invention of the internet, knowledge is the most accessible that it's ever been, and the younger generation largely seems to have been influenced by this. Voxburner's survey of 2000 UK-based 16-24 year olds showed that "45% agree they're an 'overachiever, and 84% feel it is important to continuously improve themselves and learn new skills." With knowledge being so easily accessible, they are aiming for the best version of themselves and continuing their quest for information after school.
For content marketers, this means that providing learning value in the form of events, PDFs, guides and useful on-line information will engage those users who are looking to self-improve, allowing your brand to support them in their growth.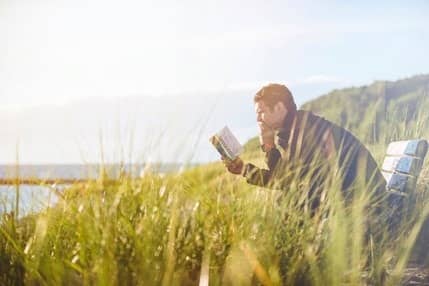 We may have access to a mountain of knowledge, but ensuring that knowledge is useful and factual is something less easily found. Associating your brand with reputable and helpful resources will go a long way towards creating brand advocates.
This aim to better themselves is not just about the mind, the group are also focusing on building a healthy lifestyle, with "79% of 16-24s preferring to stay in and binge series than go out clubbing." With the internet providing access to cheap entertainment it is not so easy to stereotype social lives anymore. With social media, they can keep in touch with friends without leaving their living room, and are more connected to the world than ever before.
Social media is one of the hardest marketing channels to fight for, with the ROI being harder to quantify than something like PPC. But neglect your social media and you will lose the youth demographic. After all, they have grown up in the most connected era to date, indeed according to pewinternet "90% of American adults aged 18-29 use social media". You must ensure that you are targeting the right social media platforms at the right times in order to catch them when they are most receptive to your message.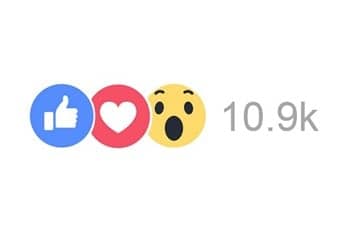 But how do you speak to this demographic via social media? What's the best way to communicate with them?
Social Media
"Visual Messaging expresses your words with much more feeling and emphasis and messages now feel empty without a little emoji on the end. Memes also grab attention and GIFs are quick, which furthers my point about ease and speed, it's all about what you can do and the quickest way you can do it."
Saeed Atcha, 20, Founding CEO, Xplode Magazine
According to the Youth Marketing Report "92% of our respondents use emoji's within messaging, while 60% use GIFs." As emojis are the best way to express oneself, use Picsart tool to easily copy and paste emojis into your conversations. Quick and easily digestible messages are the best way to grab their attention. Brands on social media need to keep up with the fast pace at which young adults engage with their content. House of Fraser's #emojinal campaign might have left people feeling confused, but they created a massive amount of hype and attention as well as giving away discount vouchers to people who could decode their emoji stories, which resulted in getting their brand trending on Twitter.
By using emojis and quick messages House of Fraser got people talking, and whether they liked it or not the campaign certainly created a lot of interest.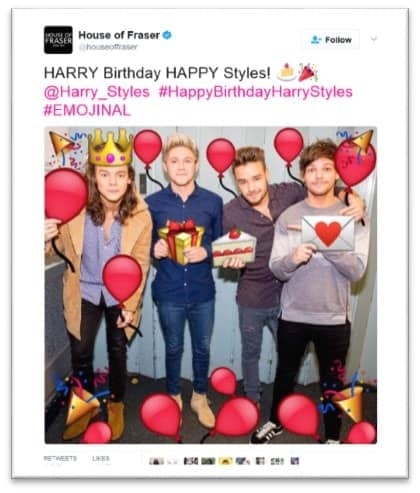 House of Fraser: Twitter
"Simplified content is so brilliant and popular amongst young generations because it's easily digested, and offers a moment of solitude from an otherwise busy stimulus of noise, image and thought. A quick swipe, glance, and it's over."
Shanu Walpita, Freelance Trend Forecaster and Consultant
Simplified messaging is not only something which social media should play with, but content marketers should also take heed. Voxburner's survey discovered that "easy to navigate, quick to load, and creative, were their top three most important qualities within a website". This group are not prepared to wait around, therefore delivering content to the youth generation needs to be slick, entertaining and engaging. The market has high expectations, not just about working hard on themselves, but expecting others' work and website content to be simplified, easy to digest and work equally as hard for them.
When creating your content and social media strategies valuable content that teaches the user, or helps them to improve their life, coupled with easy to access, quick to digest and creative content is the best way to reach your target audience.
This data is just a taster of what we can expect from the Youth Marketing Report, released on 22nd March.