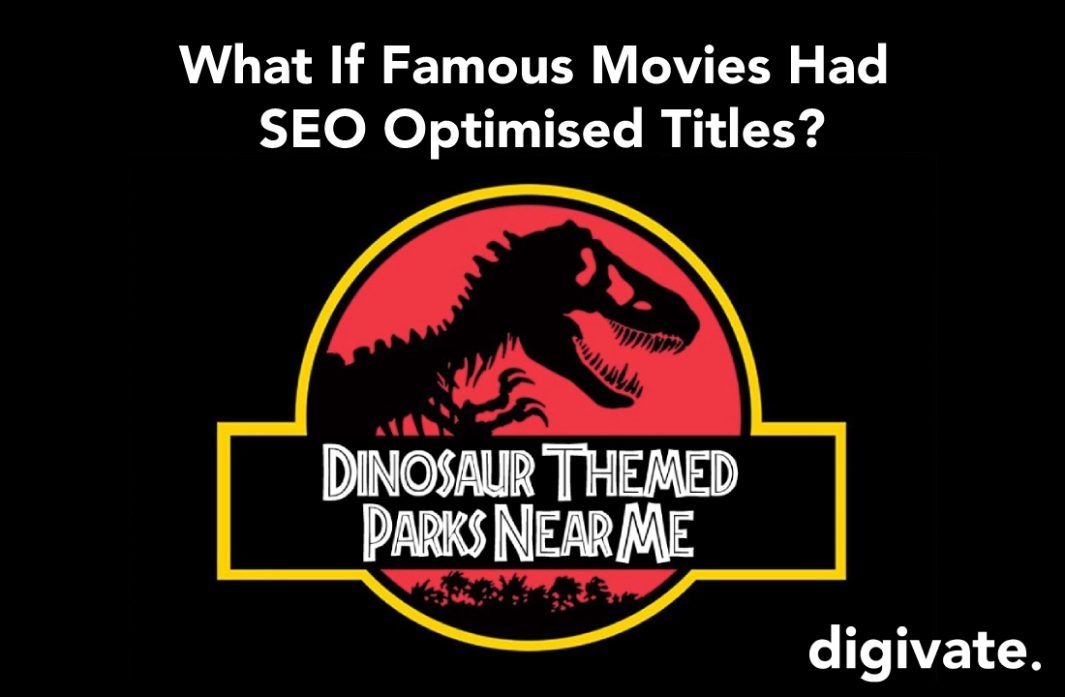 Over the last year, our movie-watching habits have drastically changed. And with the Oscars creeping up, most of this year's nominees were exclusively viewed via the world wide web.
After all, that's the only way we can currently access them. 
This means SEO and film are becoming a bit of a thing.
Even before the pandemic, we saw the Birds of Prey movie change its title so that it could improve its SEO. 
So with even more movies hitting digital platforms this year, we thought we would have a little SEO-related fun ourselves. 
Behold! Our amazing list of Famous Movies With SEO Optimised Titles!
1) Jurassic Park – "Dinosaur Themed Parks Near Me"
Even though it's an insurer's worst nightmare, that hasn't stopped the Jurassic Park owners from giving it a go twice. If at first you don't succeed, try and die again.
2) The Wolf of Wall Street – "Unethical Life Hacks"
While some people may have learned the moral behind Jordan Belfort's famous biopic, the film's producers certainly didn't. Even the main man Leo couldn't avoid being wrapped up in a hare-brained money-laundering scheme that screwed billions of dollars out of the Malaysian people.
3) The Shawshank Redemption – "How To Escape Prison on a Budget"
One of the all-time greats, Shawshank Redemption has fans across the world. It taught us many things about life, such as the importance of freedom, friendship and the power of a well-placed poster.
4) Scarface – "Things to Avoid When Starting a Drug Empire"
A drug-dealing, grenade-launcher wielding masterpiece – Scarface is just about as '80s as it gets. You can't deny the impact it had on popular culture with the film's poster adorning the walls of every rapper who appeared on MTV Cribs.
5) The Big Short – "2008 Financial Crisis for Dummies"
I'm not going to pretend that I fully understand the ins and out of the 2008 financial crisis. And try as The Big Short might to enlighten me, concepts such as subprime mortgages and collateralized debt obligations, however sexily presented, will forever fly over my head. All I know is Diamond Hands ✋💎, Tendies and To The Moon! 🚀🚀🚀🚀
6) Fight Club – "Toxic Activities For Men"
In today's "Filmbro 101" class we will be discussing the deepness of Fight Club, Plato's allegory of the cave in the Matrix and why the hell did The Dark Knight not get all the Oscars!
7) X-Men – "Hugh Jackman Shirtless" 
Doesn't Disney own the X-Men now? Keeping track of all this superhero nonsense is like trying to keep Hugh Jackman from taking his shirt off. 
8) No Country for Old Men – "Creepy Hair Ideas for Men" 
Javier Bardem delivered one of the best villains to ever grace our screens. He was cold, calculated and had hair so full of sheen it would put head and shoulders to shame.
SEO vs Content
While it has been great fun ruining iconic film titles, there is a lesson to be learned here. Simply, don't let SEO get in the way of great content! 
Don't get us wrong; it's essential to use SEO as a tool to give your content a fighting chance in today's endless stream of information. However, in the war between valuable content and keyword-stuffed nonsense, you really need to pick your battles.
At Digivate, we know what we're doing when it comes to carefully balancing SEO and Content Marketing (as much as this article says otherwise).