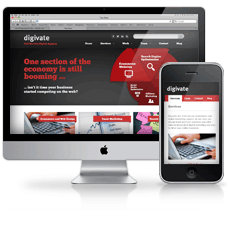 More than ever people are accessing content on the move, with mobile devices fast becoming our primary way of accessing information.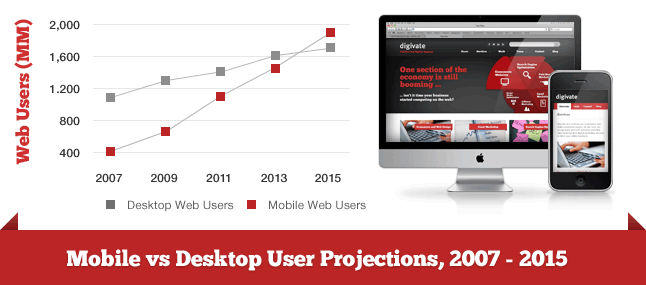 If you want people to buy your products, use your service, locate you or contact you, a mobile optimized website has arguably become the best tool available.
But there's still a debate that many people are struggling with – which approach is best: responsive web design, a dedicated mobile site or a mobile app?
As you'll see below, each approach has its own advantages and disadvantages.
Responsive Web Design
Responsive web design is an approach that adjusts website content and layout using CSS3 media queries to access factors such as screen size, platform and orientation. The same basic HTML can be used to display content on devices as varied as desktop PCs, tablets, mobile devices and web TVs.
Advantages of Responsive Web Design
Lower costs – you only need to develop and maintain one website
Consistency – your site contains the same basic content, across varying platforms, providing users with a consistent experience
Single domain/URL – sharing content is made easier with no device related redirection necessary
Disadvantages of Responsive Web Design
Not fully optimized – unless you use a mobile-first approach your content will not have been fully optimized for mobile devices
Slower performance – mobile pages often have the same, or even larger, file sizes than their desktop counterparts
Usability issues – mobile users often wish to perform different tasks to desktop users and may be accustomed to mobile-specific user interfaces
Dedicated Mobile Site
A dedicated mobile site is a separate version of your website designed exclusively for mobile devices. The most common implementation is for the mobile sites to add a prefix or suffix to the main domain (e.g. example.com becomes m.example.com) and users are automatically redirected to the mobile site if they access the website via a mobile device.
Advantages of a Dedicated Mobile Site
Tailored content – separate mobile and desktop content with navigation customized for the mobile users
Speed – optimize and streamline the site for the mobile user experience
Quick development – if you already have an existing website, a separate mobile-only site can often be built and launched quickly at fairly low expense
Disadvantages of a Dedicated Mobile Site
Multiple domain/URL – may have implications for SEO, and sharing content on social media becomes an issue
Requires redirection – mobile users will be redirected to the optimized view, and vice versa, adding additional page load time
Extra work – you'll have two different sets of content to manage and maintain
Mobile App
Mobile apps are small programs that reside on mobile devices and fulfill sales, marketing or training objectives by delivering a useful tool to your target market. Apps tend to be small, self-contained and focused on solving one unique task.
Advantages of a Mobile App
Fast – apps can load in seconds and are faster than both responsive and dedicated mobile websites
Offline availability – apps do not require a connection so your content is always available even when the user is offline
Native mobile features – your app can utilize native features such as cameras and GPS location
Disadvantages of a Mobile App
Requires download – less than 20% of brand apps are downloaded more than 1000 times
Maintenance – apps require lots of maintenance to keep users engaged and to adapt to frequent operating system changes
Platform specific – apps are limited to mobile platforms (iPhone/iPad, Android, Blackberry, Windows 7) and require additional promotion as users won't stumble across them on search engines
If you'd like to discuss how Digivate can help you optimize your mobile website, please get in touch and we'll be happy to help.