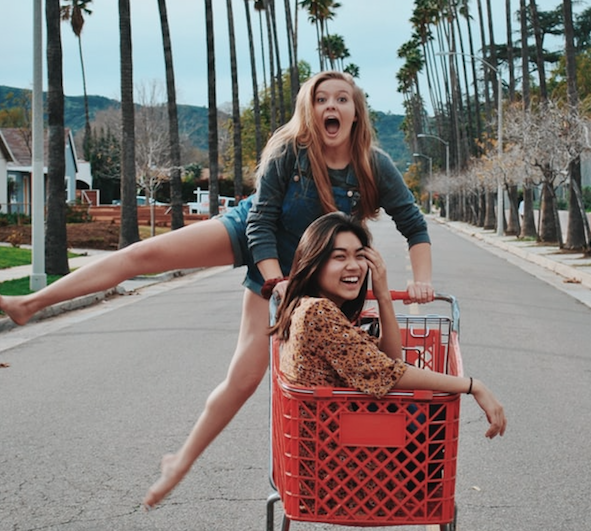 If you are an ecommerce brand, you need the right marketing strategy to grow your business.
A sound ecommerce strategy can help you build brand awareness, obtain new customers and drive customer loyalty.
But where do you start?
You can read all day long about strategies and tactics for growing your online store, but you are probably asking yourself:
Which ecommerce marketing strategy is right for me and where should I start?
Well, you've come to the right place.
The truth is:
There are certain ecommerce strategies that are timeless and always work, no matter your industry.
What is Ecommerce Marketing?
Ecommerce marketing is a set of promotional activities aimed to drive traffic to your online store, converting that traffic into paying customers, and retaining those customers post-purchase. For small businesses, ecommerce platforms can be a great way to start
selling online and growing your business
The key to successful ecommerce marketing is simple:
Make it easy for your customers to get what they want.
Of course, it's easier said than done.
Below are 6 proven ecommerce marketing tactics that always work:

#1 Upsell and Cross-sell to Existing Customers
If you are like most businesses, you may well be thinking that in order to grow your business, you need more customers.
While customer acquisition is definitely important, it may not be the smartest strategy to start with.
The biggest mistake we see a majority of companies make is ignoring their existing customers.
Both up-selling and cross-selling to your existing audience is more cost-effective than acquiring new customers.
Why?
Because people who are already buying from you are familiar with your brand and products – you don't have to waste time introducing them to your brand or waiting until they decide to trust you.
All you have to do is improve your current customer experience and help them with valuable suggestions during the check-out process, retargeting or email campaigns.
The difference between upselling and cross-selling is that when you upsell you encourage people to buy a higher-end product than what they originally planned, while cross-selling invites customers to buy related and complementary items.
HOW CAN WE HELP? We can help you increase the average order value and lifetime value of the customer by optimising your checkout process and setting up processes and procedures for marketing campaigns.
#2 Optimise Your Checkout Process
Did you know that nearly 70% of shoppers abandon their carts and a majority will NEVER return to complete their purchase? This is where investing in a seamless checkout process becomes essential, just like how one would invest in their financial future.
Shopping cart abandonment is the biggest problem for many e-commerce businesses, but it is also the most neglected one.
Marketers spend so much money building trust with their potential customers, they forget about building trust throughout the most crucial part of a user journey – the checkout process.
Here's what you can do to unlock your highest revenue potential by recovering those lost sales:
Instead of sending a follow-up email, present an exit offer with a promo code to shoppers who have attempted to leave the cart or checkout pages in the moment it occurs
Send an immediate recovery email if the person ignores the exit offer
Try to get your whole checkout on 1 page (if you can't, show a progress bar on each page, so that your customers know how long time they have left)
Don't confuse a customer with too many choices and buttons (the more time they spend deciding the more frustrated they become)
Offer a discount or free shipping (cart abandonment often has to do with price or shipping)
HOW CAN WE HELP? We can help you to decrease cart abandonment by optimizing your checkout process.
#3 Improve Your Product Pages
Conversion rate optimization (CRO) is the practice of optimising your pages for conversions and increased sales.
If your product pages don't convert as well as you want, your website may have some of these common problems:
You aren't properly segmenting your products
You are putting too many products on a single page
You don't have the right balance between text and visuals
Your product descriptions are not helpful or SEO friendly
You don't show icons/batches that prove you are trustworthy
You don't have customer reviews
A big part of conversion optimisation is providing helpful and search-engine friendly product descriptions.
Optimising your descriptions for search will help your business get more qualified traffic and revenue.
HOW CAN WE HELP? We will conduct holistic research to identify opportunities to increase your conversion, so you can grow your business quicker.
#4 Improve Your Email Campaigns
Roughly 20% of ecommerce sales happens in email (2017 Smart Insights).
Email is the second biggest traffic source driving sales after organic (22%).
Despite the undeniable benefits of email marketing, only 51% of the UK's top eCommerce brands are sending out dedicated emails.
The great thing about email marketing is that the people who subscribe to your email list are ACTUALLY expecting emails from you. About 80% of consumers WANT to receive retail emails that recommend products to them based on previous purchases.
Which is why email is excellent for repeat purchases.
Below are the types of emails you should be sending on autopilot:
Welcome email – this is an email that your subscribers receive when they first join your list
Email nurture series – this is a sequence of emails you send to educate your customers about your product, your brand or your niche
Cart abandonment email – this is the email you send when your visitors fill up the cart, then leave your store without checking out
Email receipts – these are emails you send to confirm your customer's purchase; it's also a great time to send them further promotions!
Below are the types of personalised emails you should be sending:
Send Wishlist reminder emails
Send personalised "Nearly Out of Stock" emails
Provide exclusive promo codes and free gifts for loyal customers
Personalise emails related to their recent purchases
#5 Invest in Content Marketing
Whether you're laughing at a GIF you were tagged in, re-evaluating your life choices after reading a profound personal development article or brushing up on your industry knowledge …
… the Internet IS content.
Which means that if you want to market on the Internet, you'll need content.
But, what exactly is content marketing services ?
At Digivate, we define content as:
Content marketing is the CONSISTENT process of:
planning
creating, and
distributing
… valuable information to attract and acquire a clearly defined audience.
Content can be presented in many formats:
Guides
Blog posts
Videos
Books
E-books
White Papers
Infographics
Illustrations, designs
Podcasts
Webinars
Quizzes/polls
Public speaking
Many online business owners think that the first thing they need to do is sell, but it's not.
To sell to people, customers have to know you exist which means people need to start coming to your site.
Therefore, your first priority is traffic.
There are many ways to generate traffic, but the one you should start with is a blog.
A strategically written blog will not only increase traffic to your site, but it will also help you to bond with your customers and grow their trust in you.
HOW CAN WE HELP? Storytelling is at the heart of what we do. We help you to create a content plan that drives qualified traffic, makes people act and grows your email list.
#6 Set up Retargeting Advertising Campaigns
92% of users do not convert on their first visit to a website.
The great thing is that you can capture those sales by showing your product on other websites your customers are visiting.
This advertising technique is called 'retargeting'.
You can retarget your website visitors on other websites, social media and email.
You can also set up personalised landing pages for different audiences to help them convert better.
HOW CAN WE HELP? Coordinated cross-channel PPC advertising requires a specific skillset and time to run smoothly. If you think you are unequipped to run your retargeting campaign properly, let our paid media experts take care of it.
Summary: Best Ecommerce Marketing Tactics
We hope this article helped to clarify ecommerce marketing strategies and tactics and gave you a good indication of what to focus on.
A coordinated cross-channel marketing strategy is essential to your ecommerce success.
To successfully promote your ecommerce business, focus on these areas:
Email marketing: creating email campaigns to upsell, cross-sell, reduce shopping cart abandonment etc.
Social media marketing: selling and promoting on social platforms