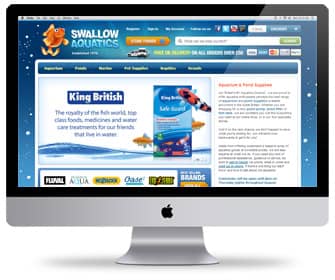 130% annual increase in organic traffic
43% annual increase in organic revenue
20+ new #1 Google rankings, including high volume terms
160+ new first page Google rankings, including some of the highest volume search terms in the industry
Overview
Over the last 35 years, Swallow Aquatics has grown to become one of the UK's premier aquatics companies. Operating four superstores across the South East of England and an online store, the company offers an unparalleled range of aquarium, pond, and water gardening products for pet owners and aquatics enthusiasts alike.
When Swallow Aquatics came to Digivate in early 2012, its website and online presence didn't reflect the scope of the company's offering. The company were keen to change this as quickly as possible.
The Challenge
When we first met with Swallow Aquatics, they knew they needed a new website to help them achieve their online ambitions. Their site was in need of a design overhaul, and architectural and technical problems meant it was not ranking in search engines for anything beyond brand related terms.
Swallow Aquatics'website also had fewer than 30 other websites linking to it, which meant it lacked authority, popularity and trust from a search engine perspective.
While its key competitors were enjoying first page Google rankings for the most lucrative and highly searched for keywords in the industry, Swallow Aquatics could barely be found.
The Solution
The first step for Swallow Aquatics was to builda brand new Ecommerce website on the Magento platform. Unlike their previous website, this one would be designed with search engines in mind.
With every website we build at Digivate, the SEO team is heavily involved in the process from start to finish. Swallow Aquatics' site was no exception and the work we undertook was far-reaching.
Onsite Optimisation
Keyword Research – extensive keyword research informed every aspect of the new site's architecture. After defining a keyword model we designed a category hierarchy that ensured each category page targeted a unique,commercially relevant,high volume keyword.
Copywriting – we produced14,000+ words of unique, keyword rich copy for the site's category pages. Each piece of copy targets a series of long tail terms related to the page's primary keyword.
Title Tags & Meta Descriptions – optimisation of hundreds of title tags and meta descriptions site wide for the benefit of keyword targeting and click through rates. This work is ongoing.
URL Management& Technical SEO – redirection of previous site's URLs to new site; implementing canonical tags; managing robots.txt, sitemap files and Webmaster Tools.
Social Media – adding social media buttons to relevant pages to facilitate social sharing.
Offsite Optimisation
Since Swallow Aquatics had few quality websites linking to them when we started the campaign, it has been a long process to build up the site's link authority. Through ongoing digital PR and outreach, we have built valuable relationships with bloggers and webmasters in the aquatics community who have helped us get our brand, content and products in front of the right audiences. We have also ensured that Swallow Aquatics' many suppliers are linking to the website, which has been an important source of direct traffic, in addition to link equity.
The Results
Traffic & Revenue
In 2013, Swallow Aquatics' organic search campaign saw a 130% increase intraffic and a 43% increase in revenue, driven almost exclusively by improved rankings for non-brand terms.
Rankings
In 2012, if you Googled practically any aquatics related non-brand keyword, Swallow Aquatics was nowhere to be seen. Now the site ranks on Google's first page for the most competitive high volume searches in the industry and enjoys number one rankings for several valuable industry terms.
Perhaps the most important edge Swallow Aquatics now has over its competitors is its long tail search presence. We track hundreds of commercially relevant keywords each month, and Swallow Aquatics now ranks on Google's first page for many more terms than its key competitors. This contributes significantly to the high levels of traffic that now reach the website.
See what we've achieved for more Search Engine Optimisation clients
Case Studies - Ecommerce and Web Design

Case Studies - Email

Case Studies - PPC