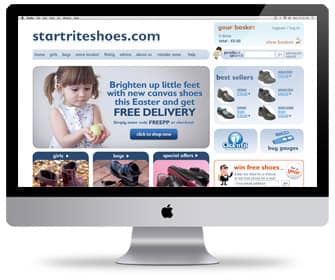 Start-rite Shoes is a market leader in children's fitted footwear. In recent years, Start-rite has evolved considerably, using 200 years of expertise to manufacture footwear that meets the needs of today's children.
The Brief
In 2007, industry leader Start-rite commissioned Digivate to design and build a bold and informative website, StartriteShoes.com, becoming England's first children's fitted footwear brand to launch a fully transactional website.
StartriteShoes.com needed a website that goes beyond just selling children's footwear and provides parents with an in-depth insight into children's shoes and foot health, fitting in with the businesses core values of emphasising the importance of healthy foot development.
Following the triumph of their first website, Digivate successfully pitched in 2009 to rebuild and migrate StartriteShoes.com to the Magento platform.
The Results
Startriteshoes.com now has the ability to really deliver a superior online website that matches the high quality of its product offering. Digivate delivered the freedom to drive promotions, promote their latest product range and maximise their Back to School campaigns. The website offers parents a multitude of ways to measure their children's feet in the comfort of their own home, including purchasable foot gauges, downloadable foot gauges, online fitting calculators and instructional video guides on fitting and measuring techniques.
Startriteshoes.com is now a sector beating online shop, delivering the client strong online revenue and their customers a fast, reliable website. Digivate also provides full digital marketing services for Start-rite Shoes as well.
See what we've achieved for more Ecommerce and Web Design clients
E-commerce – A fast, reliable website

Website Build – Mobile-friendly Re-brand