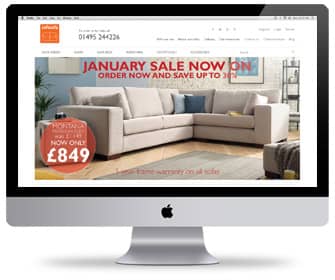 Find out how we used long tail SEO to help lead SofaSofa to a record breaking year in search.
Overview
Founded in 1981 by the Ridgwell family, SofaSofa is the UK's largest direct selling sofa company. SofaSofa proudly manufactures all of its products in the UK and has achieved success by offering high quality furniture at factory direct prices – at least 50% lower than equivalent high street brands.
SofaSofa is one of our most loyal and valued clients – our relationship extendsback to 2006. The SofaSofa SEO campaign has been one of the most challenging campaigns we have ever worked on. The sofa industry isa highly competitive marketplace and has been more noticeably affected by search algorithm changes than other sectors we work in.
The Challenge
When SofaSofa first came to Digivate, they had a goal to rank on Google's first page for the two most highly searched for keywords in the sofa industry, "sofa" and "sofas". In 2006, websites could easily rank well for keywords contained in their top level domain, so it didn't take long for us to help SofaSofa achieve top rankings for these terms. With a continuous link building campaign, first page rankings were maintained for "sofa" and "sofas" from 2007 through to 2011.
Unfortunately over the last few years Google progressively made changes to de-prioritise keyword-rich domains as a ranking factor. This made it dramatically more difficult for SofaSofa to rank for "sofa", "sofas", and their derivatives.
In addition, the sofa market has grown increasingly competitive and Google has developed a strong big brand bias in organic search. As a result, sofa related search results have become progressively crowded by large corporations that don't necessarily specialise in sofas, including Tesco, Argos, Homebase, Next, Ikea and John Lewis.
With the changing industry and search landscape, the challenge for us has been to find ways to retain SofaSofa's traffic in a highly competitive situation.
The Solution
In order to retain (and boost) the number of organic search visitors to the SofaSofa website, we came to the conclusion we would need to implement a comprehensive long tail keyword strategy.While larger competitors were increasingly dominating the highest volume SERPs in the industry, most were overlooking the opportunity present in long tail searches.
Onsite Optimisation
Onsite optimisation has been extensive and has included:
Keyword Targeting – ensuring every page on the site targets a unique keyword.
Recategorisation – completely redesigning the website's categories for the benefit of both users and search engines.
Copywriting – producing keyword rich copy for every category of the website.
Content Development & Blogging – producing one blog post per week, usually targeting a relevant long tail search query.
Title Tags & Meta Descriptions – continuous optimisation of title tags and meta descriptions site wide to improve keyword targeting and click through rates.
Technical SEO & URL Management – implementing canonical tags,managing sitemap files, robots.txt and Google Webmaster Tools.
Social Media – adding social media buttons to every page of the site to facilitate social sharing.
Offsite Optimisation
Through ongoing digital PR and outreach to interiors bloggers and journalists, we have been able to create valuable relationships with people who help us promote our brand, content and products.Most of SofaSofa's competitors are big brands who gain a large number of authoritative links naturally by virtue of their physical presence offline and substantial advertising budgets. Hence we have to work extremely hard to achieve the necessary link velocity to compete.
PPC
Digivate also manages a pay per click campaign from month to monthand this has been scaled dramatically in the last 18 months.
The Results
Traffic
The SofaSofa website saw more traffic in 2013 than in any year in history. Since the implementation of the long tail strategy (beginning with the overhaul of the site's categories in late 2010) there has been a 24% average annual increase in organic traffic to non-homepage pages*. This has come almost entirely from non-brand long tail search queries.
Rankings
SofaSofa nowregularly ranks on page one forsome of the most high volume keywords in the industry. However, the biggest improvement has come from long tail variations of these terms. Every month we benchmark SofaSofa's rankings against its key competitors. Of 257 predefined keywords, SofaSofa now ranks in Google's top three for 50 terms; on page one for 138 terms; and in Google's top 30 for all but 19 keywords. We are constantly conducting keyword research and implementing strategies to help the site rank for long tail queries frequentlyoverlooked by competitors.
*Note: PPC advertising captured an increasing share of brand (homepage) search traffic this year. As such we are not including homepage traffic for the purpose of this study.
Client Testimonial
"We've been working with Digivate for nine years and in this time we've seen traffic to our site grow every year. Over this time Digivate have implemented a strategy for SofaSofa that has enabled us to achieve Top 10 rankings consistently for the most valuable search terms in our sector. Their ability to think creatively and respond quickly to the regular changes within Google means we are able to compete with brands with much larger marketing budgets than ourselves"
Tom Ridgwell
See what we've achieved for more Search Engine Optimisation clients
Case Studies - Ecommerce and Web Design

Case Studies - Email

Case Studies - PPC