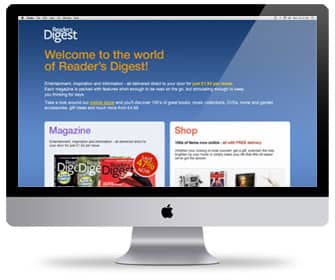 New Reader's Digest Landing Page leads to an 123% Increase in Online Revenue.
The Challenge
Reader's Digest is the largest paid circulation magazine in the world. Global editions of the magazine reach 40 million people in more than 70 countries, with 50 editions in 21 languages. Reader's Digest has been published in the UK since 1938, but it wasn't until recently that the company decided to enter the ecommerce space, by launching a new online store.
In 2011, Reader's Digest approached Digivate to ask for help in boosting its online sales revenue.
Digivate's Solution
Digivate noticed that while there was a high search volume for Reader's Digest brand terms, it was evident that most customers were looking for the magazine and were unaware of the existence of the online store (which was a separate website).
Digivate proposed a new landing page for the PPC brand campaign. The page was split into two sections – "magazine subscriptions" and "online shop". Customers who landed on the page searching for the magazine would easily be able to click through to appropriate website, but they were also now made aware of the online store.
The Results
In the four months following the release of the new landing page, sales generated from brand searches increased by 494%. In the same period, overall shop revenue increased by 123%.
See what we've achieved for more Paid Search Marketing clients
PPC – International Campaign exceeds targets

PPC – Revenue increase of 2,263%