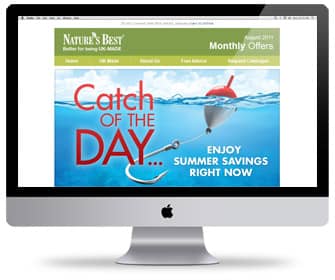 Nature's Best Health Products is a leading UK supplier of high quality nutritional supplements that sells direct to the public.
The Brief
Nature's Best selected Digivate in 2005 to assist them in planning, developing and executing an email marketing communications strategy to drive new and repeat sales on-line.
Digivate was tasked by the team at Nature's Best to develop a series of email communications that would be sent to the brands customers and prospects that would inform, excite, educate, engage and sell.
The Results
Digivate has developed an integrated email marketing strategy that includes a number of monthly communication strands, including an offers email, a health comment email and a creative led product focused email.
Digivate provide a fully out-sourced email marketing service to Nature's Best that covers strategy, design, html coding, data processing, deployment and segmentation set-up, campaign broadcast and reporting.
The return on investment from email marketing is significant and continues to grow as does the lifetime value from loyal Nature's Best customers. Digivate's campaigns for Nature's Best consistently achieve double digit conversion rates and revenues have grown by 20% year on year.
See what we've achieved for more Email clients
Email – A 400% ROI

Email – Double Digit conversion rates