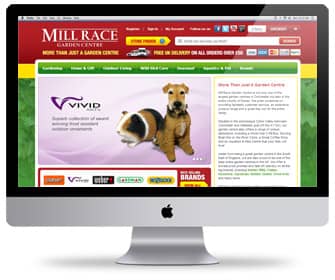 When building a new ecommerce website it is vital to consider SEO and PPC from the start of the process and beyond. A properly implemented search strategy with a website created to maximise the impact of campaigns can achieve extraordinary results.
In this case study we will be looking at Mill Race Garden Centre.
We will focus on the following:
How important is it to have an ecommerce platform that helps you grow
How PPC directly increases brand awareness
How tracking revenue is essential for an Ecommerce business
How PPC can deliver a strong return on investment
Ecommerce Platform
The Mill Race website was developed by the Digivate team using Magento. As a full service digital agency we made sure that the website was optimised to the standards required to carry out the marketing campaigns, with particularly emphasis on search.
Throughout the process it was vital to fully engage with the client, maintaining communication, and collaboration to ensure understanding and buy-in at every step.
The site softlaunched in December 2012. This followed a process of in-depth research, optimising the site and thorough testing. Once everything was in place and the client was satisfied we began the paid search campaign in March 2013.
Brand Awareness
Having had no real online presence, brand search volume was minimal at the start of the campaign. Nevertheless we continued to bid on brand terms in order to capitalise on growing brand awareness.
Below is the paid search performance for Brand terms from March 2013 to December 2013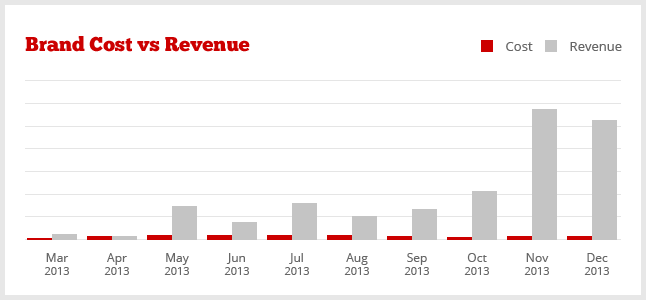 Fig.1.0
Fig 1.0 illustrates clicks vs. conversions for brand terms over a period of 8 months. Media budget stayed consistent throughout the period while Digivate focussed on CPC bid optimisations, negative search terms and ad copy rotation.
Bidding on brand terms is not always the best approach, especially for brands with a well-established online presence. But in this case brand bidding formed part of a successful holistic search strategy.
An effectively managed PPC campaign undoubtedly increased brand awareness. By bidding for keywords relating to products it was possible to bring new customers to the website, beginning the vital process of building loyalty and trust. Next time a happy customer needs a product they are clearly more likely to come to you directly via a branded search or directly visiting the website.
In the first 3 months the Organic ratio of Assisted/Last Click or Direct Conversions was at 0.57. A number that is closer to 1 indicates that the channel equally assisted and completed sales whereas when it is close to 0 it means that it has little or no assistance. Over a period of 8 months the ratio grew to 0.80, an increase of 31.08%.
Fig.1.1 is a graph illustrating [Cost vs Revenue] for the Brand campaign over the eight month period.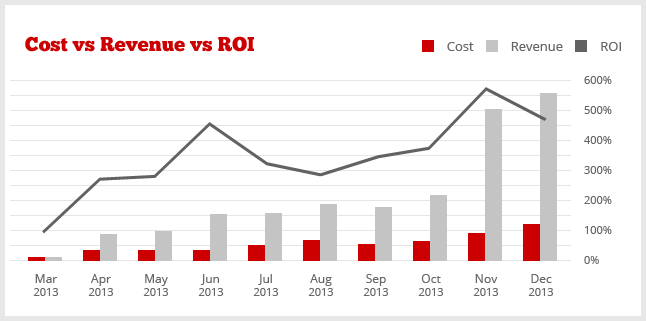 Fig.1.1
Revenue Tracking
In order to grow an ecommerce business it is essential to track revenue generated by each channel.
Revenue tracking allows you to track what visitors are buying and how much they are spending. Without it your business cannot be sure if it is making money online or losing it. Without Revenue tracking you won't be able to calculate your return on investment for each campaign. Revenue data enables us to invest more in the keywords that generate the most revenue and identify keywords that do not perform so well. For an ecommerce client it is vital to allocate budget where it can generate the most money.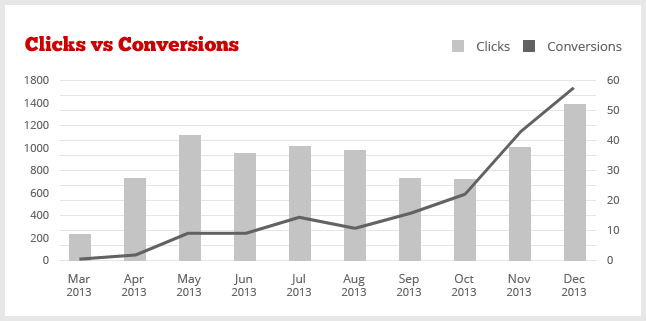 Fig.1.2
The graph in Fig.1.2 illustrates the comparison between cost, revenue and ROI. This information enables search marketers to continually grow and improve campaigns.
PPC and Return
Delivering a lot of revenue does not necessarily mean a good return on investment. In the Mill Race campaign there were strong seasonal factors that affected the flow of traffic to the website. Armed with data about previous seasonal trends we prepared to push results to a new level in the New Year.
Between March 2013 and December 2013 PPC drove over 67% of the overall website revenue and direct revenue increased by 2263%.
See what we've achieved for more Paid Search Marketing clients
PPC – International Campaign exceeds targets

PPC – Revenue increase of 2,263%