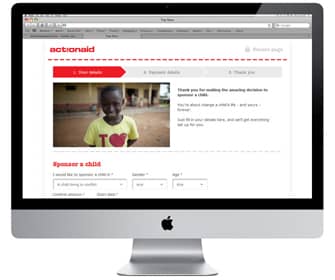 Background
ActionAid is a major global charity maintaining a high-profile with the public. They wished to have a sound platform for the 2014 relaunch of their ecommerce shop as part of their main web site, and appointed Digivate to engineer and support their mission critical ecommerce processes including child sponsorship and regular giving.
Solution
The site was designed and built using Magento's Community edition to provide a platform for both the Ecommerce store and ActionAid's main priority, the donation checkout. The checkout was designed specifically with mobile traffic in mind. The checkout uses a multi-page framework to keep each step of the checkout process as clean and stripped back as possible, input fields were made larger for ease of use and call to action buttons were made large and bright, while keeping within ActionAid's brand guidelines.
Results
The ActionAid site went live in March 2014 and while historical data is not available for a like for like comparison the average daily conversion rate since going live is 396% higher than the period immediately prior to the launch. The reduction in the basket dropout rate has meant a significant increase in the number of donations.
See what we've achieved for more Search Engine Optimisation clients
Case Studies - Ecommerce and Web Design

Case Studies - Email

Case Studies - PPC