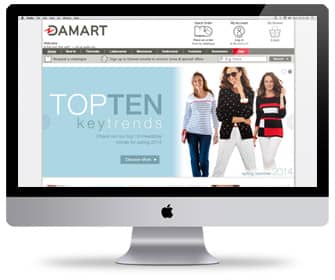 Damart is an internationally renowned clothing company that specialises in thermal wear and womens wear with 130 stores across Europe.
The Brief
Damart has been working with Digivate since 2007 to develop and execute a PPC strategy for the UK market with paid search campaigns that span across both the UK and US markets.
Damart's main objectives for their search campaign was to capture all online traffic that has been driven from their traditionally offline marketing activity along with building a strong non-brand keyword model, at the same time looking to match and exceed the target ROI.
The Results
Digivate has successfully managed to increase ROI on Damart's PPC campaigns in successive years with Damart's Autumn/Winter seasons performing beyond their expectations (in some cases, 30% above Damart's forecasts). This has been achieved through utilising some of the latest functionality and features available online, including Google Adwords remarketing and Facebook PPC campaigns.
For more than 3 years, Digivate has delivered a search marketing campaign strategy that has enabled Damart to operate and grow their online presence to a point where it has become a substantial division of Damart's overall business activities.
The success of the PPC activity has resulted in Damart continuing to work with Digivate to explore and exploit other online marketing opportunities.
See what we've achieved for more Paid Search Marketing clients
PPC – International Campaign exceeds targets

PPC – Revenue increase of 2,263%