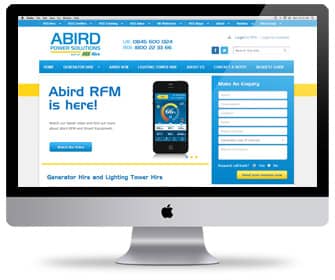 Abird is a full-service, nationwide generator hire company.
The Brief
Abird approached Digivate looking for suggestions on how they could improve the performance of their website.
Their main objectives were to:
Re-brand the website to reflect Abird's recent addition to the HSS group of companies
Make it easier for potential clients to find and contact their local depot
Make the website more flexible with content made editable via an easy-to-use Content Management System (CMS)
Digivate's Solution
We performed a full audit of the Abird website and provided a list of key recommendations including:
Move website onto a CMS platform in order to make the site more scalable and flexible for future development and maintenance
Tweak design around a stronger call to action to increase customer contact
Back the contact form with a database and pick-up analytics parameters on submission so that you can log initial customer contact to integrate with a powerful tool for analysing marketing methods
Migrate product information from Adobe pdf documents to dedicated product detail pages to make the site more user-friendly and increase search engine visibility
The Result

The Abird site design was updated, from a red and black to blue and yellow theme, to bring Abird in-line with the rest of the HSS group of companies.
Digivate built a new Abird website using WordPress, a low cost but effective CMS system, which makes it easy for Abird to update their own website and significantly reduces maintenance costs.
In addition to our original recommendations Digivate made the following improvements to the Abird website:
Prominent "Product Enquiry" form added to all pages, saving contact information and analytics data to a dedicated database accessible via the CMS
Prominent contact telephone numbers added to the main site header
Dedicated "Contact A Depot" page showing location and contact details for all 12 regional branches
Access to a "Call Me Back" form from all pages
Mobile-friendly site build to capitalise on growth of on-the-go mobile browsing
Since re-launching in March 2013 the Abird website has received over 48,000 unique page views and almost 1,000 potential customers have contacted Abird through the website.
See what we've achieved for more Ecommerce and Web Design clients
E-commerce – A fast, reliable website

Website Build – Mobile-friendly Re-brand