Lead Forensics is the ultimate tool for new business generation. This intelligent software allows you to see the complete details of companies that have visited your website, giving you the edge when it comes to uncovering new sales opportunities.
Lead Forensics gives your company the power to generate increased levels of quality leads by providing insight into exactly who is looking at your site, where they have come from and most importantly what areas of your business they are interested in.
The software is easily installed by adding a tracking code to your website that monitors a whole range of information that is unique and exclusively available to your organisation. You can access the data instantly either via the "online portal", or by integrating it with your own CRM platform. You can view and export visitor data, including the company name, web address, location and telephone number, creating a whole new source of business opportunities for you.
Previously, if a company visited and browsed your website then left without contacting you, that prime prospect was lost for good. Through the use of Lead Forensics, you can see exactly who these prospects are, transforming the return you generate from your website.
Features:
See all the details of who has visited your site but not contacted you, including the terms they searched on to find you.
Setup trigger reports to send email alerts to key people in your organisation with visitor contact details when specific activity takes place on your site.
With a couple of simple clicks, setup bespoke reports to come directly to your inbox detailing hot new prospects who are interested in your offering.
What Does Lead Forensics Do?
The "Dashboard" is your personalised home page which loads when you log in to your Lead Forensics account. It is designed to give you a quick overview of the activity on your website.
It gives you an instant snapshot of the last five businesses to visit your site, the top five keywords used to navigate to your site, the top five referring sites and the visitor numbers you have had over the last five days.
From the "Dashboard", you can click through and look at each of these areas in more detail.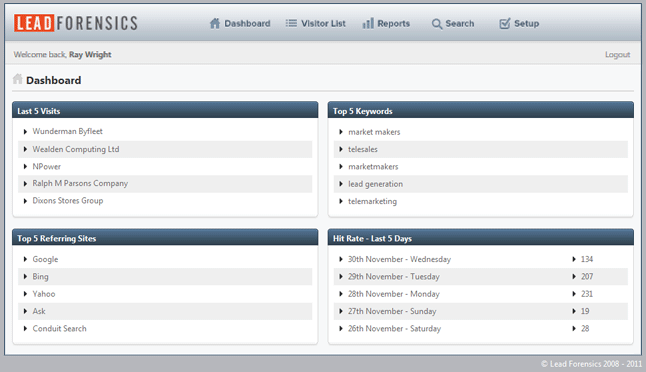 The "Visitor List" report provides an overview of the visitors that have been on your site. This is an essential report for any B2B sales and marketing professional as it allows you to identify hot opportunities.
You can sort the data easily by date, visitor categories, page views, dwell time, keywords used and the referring website.
By clicking on a company of interest, the software allows you to see greater detail about that individual prospect. The increased detail includes the pages they visited, time spent on each page and how many times they have previously visited your site. Most importantly, it provides contact details for the business. You can then assign the company as a lead to one of your sales and marketing team so every time the same company visits your site they will receive an email alert. Not only this, but the team member can then use the contact information to target the prospect.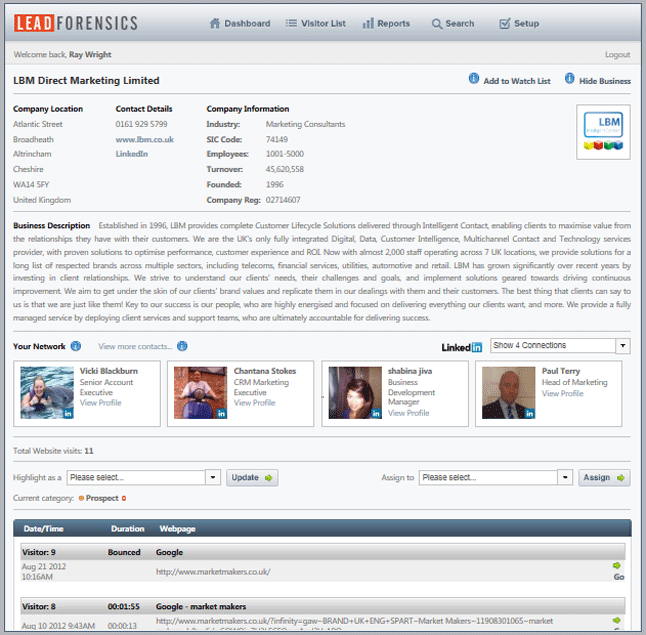 The Benefits of Using Lead Forensics
Driven by a team of highly-experienced Sales and Marketing professionals and developed by IT experts, Lead Forensics was created with first-hand experience of the challenges faced by B2B Sales and Marketing teams. So, whether you're in sales, marketing or you're a senior manager, the benefits of using Lead Forensics software as part of your lead generation strategy are endless.
From a sales perspective, you can monitor companies that are already in your sales pipeline and gain actionable insight into companies that are not. Save time by making fewer cold calls as Lead Forensics leads are warm and already qualified, giving you a conversion rate of 5-6 times higher than cold calling.
For business to business marketers, Lead Forensics provides an intuitive and cost effective method of generating sales leads and hot opportunities. With access to detailed information about who is visiting your site, visitor profiling is now possible. Understand and target your B2B prospects more effectively based on real time behaviour.
And for senior managers, Lead Forensics will enable you to drive a much greater return from your sales and marketing budgets. Not only this, you'll have access to leads that your competitors don't, providing you with a real advantage over them.
Lead Forensics delivers an ongoing source of quality B2B leads enabling you to generate new clients and also cross sell and up sell more effectively to existing clients. This makes it the perfect tool for any results driven company.
Measure the effectiveness of your marketing campaigns by checking whether a visitor has previously received any marketing material from you.
Monitor existing customers on your site and track what they are looking at in order to maximise up-sell and cross-sell opportunities.
With access to intelligence your competitors don't have, your business has the opportunity to contact and convert before the competition.