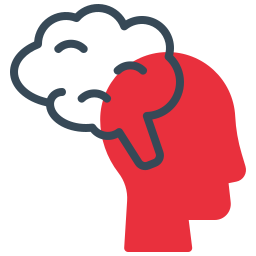 Our internship is now closed for the summer. Please check back for our next opening in 6-9 months!
What is bright

mind

s?
Every 6 months or so, we go out on the hunt for fresh, diverse talent. Our brightmind scheme was built to develop those who are interested in a career in digital marketing, want a taste of agency life, and want to dip their toe in our digital ocean.
This is a paid, full-time position for 9 months at our agency with a view to become permanent after completion.
What does the scheme look like?
Our scheme is all about becoming familiar with all aspects of digital marketing. It is a 9 month programme centred around getting you to grips with our channels, platforms and digital lingo.
You'll spend time with each department:
Paid Search
Social Media
Content Marketing
SEO
Data & Analytics
CRO & Web Psychology
Digital Strategy
Web design & development
And you'll have a personalised training programme to follow from day one.
You'll work closest with our Digital Strategists: these are our digital experts – they have a well-rounded understanding of all channels and will be your mentors throughout the scheme.
Who is the ideal candidate?
We are education and industry agnostic – we don't care what you've studied, where you've worked or if you were an A-grade student all of your life.
From Medieval Art History to Mechanical Engineering, from radio journalism to banana picking – our team has a variety of skills, backgrounds and a whole suite of random talents, qualifications and interests. It's what makes us better at what we do.
We just need to see that:
You've got a genuine interest in digital marketing
You're looking to start your career or retrain as a digital expert
You have strong literacy and numeracy skills
You're passionate about the future of digital
You're excited about joining a growing agency
You're a fast learner
What happens afterwards?
95% of our digital interns have gone on to become full-time members of the team. After the completion of your internship, we'll sit down to discuss your progress, your favourite parts of the scheme, and which team you'd like to work with.
We are driven by empathy
We are the digital agency with Mind at heart. Empathy is our core value. We apply empathetic thinking to everything we do – from our marketing strategies to how we treat our team.
We believe that these 3 pillars motivate each one of us:
Autonomy: Our desire to direct our own lives. In short: "You probably want to do something interesting, let me get out of your way!"
Mastery: Our urge to get better at things we like to do.
Purpose: The feeling and intention that we can make a difference in the world.
At Digivate, our goal is to create a work environment in which all of us can thrive. We want to empower our team by making sure they know what to do and why they're doing it.
we

mind
People with different cultures, perspectives and experiences are at the heart of the way Digivate works. We want to recruit, develop and retain the most talented people, regardless of their background.
We seek to develop a work environment where we treat all employees as individuals, fairly and in a consistent way. We strive to create a safe and inclusive atmosphere and promote culture of respect, actively challenging discrimination should it ever arise.
We go out of our way to remove unnecessary barriers for our employees seeking opportunities through training and development, promotion and career planning.





Oh and we've got perks too
Every member of our team is entitled to our usual package of perks and benefits:
Unlimited holiday days
Play hard, work hard
Flexible working
Want to start earlier, so you can leave earlier? No problem
Day off on your birthday
Nobody wants to work on their birthday
HealthShield
Get cashback on various medical and wellness treatments
Free fruit and snacks
Feeling peckish? Grab something healthy from our kitchen
Working from home whenever you need to
It's about results, not presenteeism
Nights out and socials
Make friends with people you work with
Contributory pension scheme
Invest in your future
Free bar
Grab a drink at the end of a long day
Delicious freshly-brewed coffee
We have the best freshly-brewed coffee in Shoreditch
Access to our infinite library of books
Want a book? We'll get it for you
How does the bright

mind

scheme work during Covid-19?
We all know that the world is upside down at the moment – but that won't stop us from finding the brightest talent.
We're looking for a brightmind for our programme despite the fact that our team is working remotely at the moment.
We'll make sure you're all set up to work from home, have clear, consistent contact with the team, and that you get to know your team just like you would if we were in the office.
We have a team across 3 different countries, and have always run meetings/training via video calls. Working from wherever you want is the future!

The application process
We ask that you accompany your CV with a quick cover letter/note/video or however you think you can best communicate!
In your cover letter/message, please answer the following questions:
Why do you love digital marketing?

Who is your biggest inspiration and why?

What is your dream job and why do you want to do it?
Those who qualify will be contacted and have a phone interview to find out more about you and answer any questions you might have.
After that, you'll have a face-to-face (or video) interview with the management team. We might also set you a task to complete to see how you think.