Which social media platforms should you be using? Take tips from the experts with our industry analysis.
Everyone has their favourite blog, and the chances are that your favourite blog has an amazing social media presence, with huge numbers of followers and great engagement rates. But how have they done that? Are they focussing on one channel more than the other? And how often are they posting?
These are questions we were asking at Digivate HQ, so we decided to do some digging. We picked 10 of our favourite online marketing blogs, found the 50 most shared pieces of content from each site in the past year and worked out whether there were any patterns.
Which blogs did we choose?
We wanted to know more about blogs which we actually read, so with that in mind our team chose our ten favourite sites. Below are the 10 blogs we chose, along with their social media presence (accurate of 26/03/2015).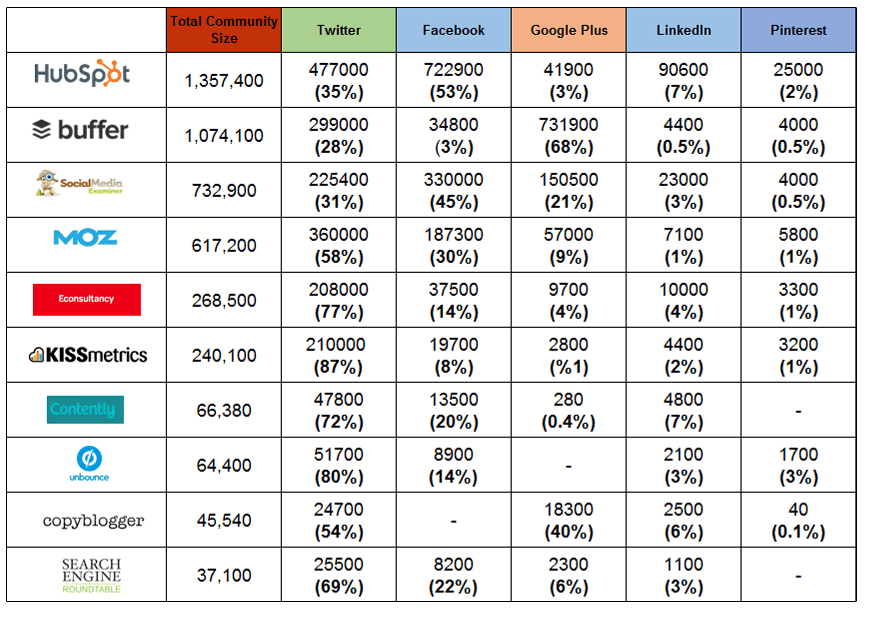 It's already clear that each blog is utilising social media platforms in different ways. Many of the sites focus on Twitter, with Econsultancy, Kissmetrics and unbounce all having over 75% of their total community from that platform. HubSpot have by far the largest percentage of their community on Facebook with a total of 53%. Surprisingly, Buffer's Google Plus community make up nearly 70% of their overall community and have more followers on the platform than all of the other blogs combined.
The community sizes only tell us so much, in order to analyse which articles were shared most we used one of our favourite agency tools, Buzzsumo. This allowed us to take a look at all of the blog posts from each website in the last 12 months and see which pieces were shared the most. As some sites share more content than others, we decided to only analyse 50 most shared posts on each blog.
Download the entire spreadsheet of data
So what does this data say about each blog? And more importantly, how can bloggers use this to improve their own social and blogging performance? To answer those questions, we have analysed a number of different data points.
Total Shares by Platform
The most obvious observation is to see which blogs are performing best on each platform. The below table lists the average number of shares by platform, as well as overall average shares per article: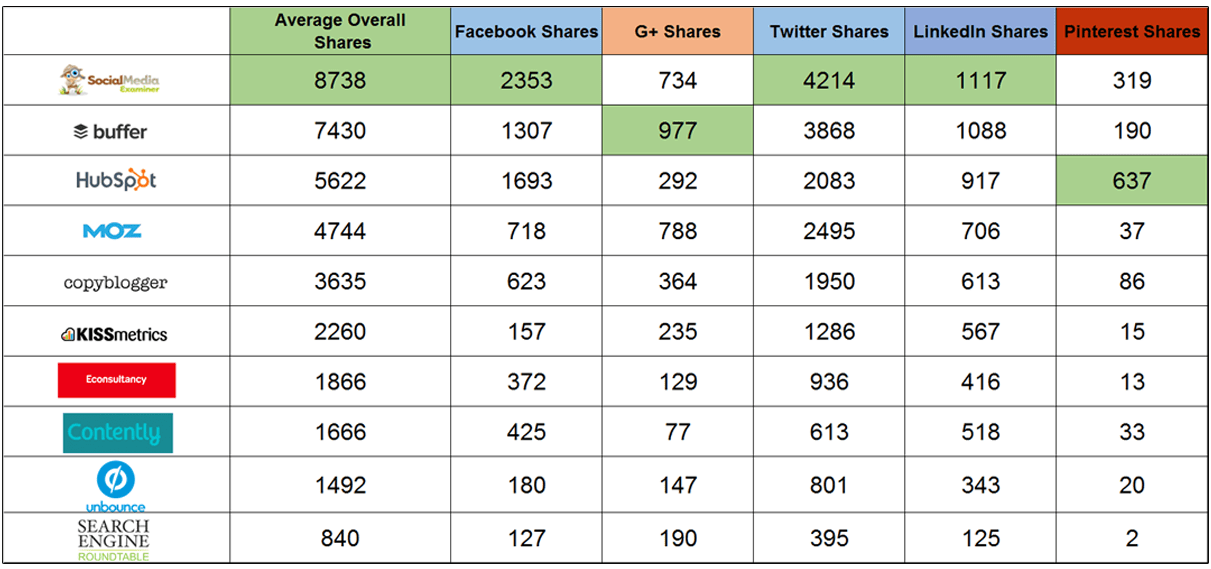 Social Media Examiner dominates the competition on overall shares, as well as shares from Facebook, Twitter and LinkedIn. With over 600 shares per article, Hubspot are the market leaders on Pinterest and Buffer are in first place for shares on Google Plus.
This data alone doesn't tell us much. What would be more interesting is to look at platform shares as a percentage of overall shares, so that's what we did.
Percentage of Shares by Platform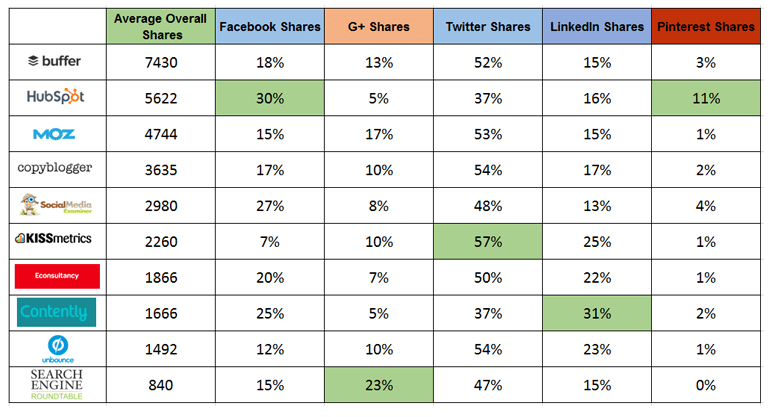 Whilst Search Engine Roundtable have the smallest number of overall shares, nearly 25% of these come from Google Plus. Note that of the top 50 shared articles from SERoundtable, 36 of these begin with the word "Google" – so it makes sense that they would focus their attention on the most relevant platform.
Six of the ten blogs analysed get over 50% of their shares from Twitter, with Kissmetrics leading the way at 57%.
Although Contently only receive 37% of their shares from Twitter, they top the LinkedIn list by a long way with 31%.
Not only do Hubspot get the most shares on Pinterest, they also get far more shares as a percentage than the other blogs. 11% of their shares come from the platform, with their nearest competitor (Social Media Examiner) managing only 4%.
What does this tell us? Think about the platforms you are using
It's not all that hard to share your content on all five of the platforms we looked at, but is that actually going to help you?
Hubspot have clearly identified Pinterest as a high value platform for their brand and as a result have been very active on their account, pinning over 2,000 times compared to the average number of pins for other active accounts, which is 1,300.
If a lot of the content you are creating is visually led, then invest time in building your following on platforms such as Pinterest and Facebook as they will showcase these pieces in the best way. Alternatively, if you are focussing on news or research pieces, utilising relevant Google Plus communities or LinkedIn groups may be a better strategy.
Because we are only analysing the top 50 pieces of content, that doesn't factor in the fact that some blogs post more regularly than others. We wanted to see whether if there was a correlation between number of articles written and average shares. The below table shows us how many pieces of content were shared by each blog in the past 12 months.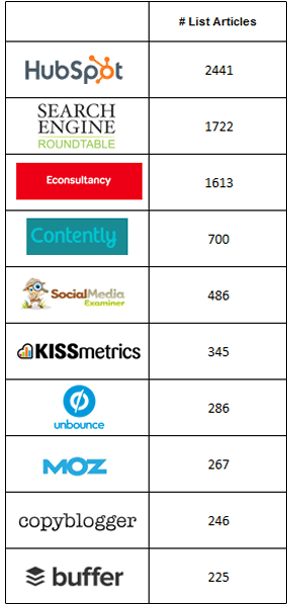 What's amazing about this analysis is that although Buffer have one of the most shared blogs, they are actually producing content less regularly than all of the other sites we analysed. Social Media Examiner also perform extremely well, sharing under 500 pieces in the past 12 months but getting an average of 8,700 shares per article. Search Engine Roundtable perform less well from this analysis, with over 1,700 blogs written but averaging the least number of shares per article out of the ten blogs analysed.
What does this tell us? Focus on quality over quantity
Although Buffer aren't as prolific as some of the other blogs, their posts always go into a lot of detail and often exceed 1,500 words. Their most highly shared piece, The Ideal Length for All Online Content, actually touches on this subject and is well worth a read. Whilst there may be a temptation to be writing 4 or 5 articles a week, if you are trying to create a articles which could be used as a resource for weeks and months to come you stand a better chance with this approach.
Having said that, blogs such as Search Engine Roundtable which focus on news stories write articles with a shorter shelf life and as a result are unlikely to get close to the kinds of sharing stats that some of the other blogs on this list receive. If you are writing content similar to that then sharing metrics will probably not be a figure you prioritise.
Title Length & Subject
The final piece of research we carried out was to see whether there were any differences in title length and subject matter across the ten sites. Below are the average number of characters in the titles we analysed from each blog.

There isn't a huge amount of difference here, with blogs averaging in the high fifties. Social Media Examiner have the shortest average title length at 49 characters, compared to unbounce and copyblogger which are averaging 65. Title tag length restrictions may play a part in the reason for character lengths never going over the mid-sixties. Bloggers should use these character lengths as a measuring stick for their own blog titles.
The recent success of Buzzfeed has led to a huge rise in the number of list articles. Have the blogs we looked at jumped on the bandwagon?
As we can see, most of the blogs analysed have a significant amount of list articles in their top fifty most shared. What would be interesting to find out is whether the same was true for the previous year, and ideally the year before that as well, as that would enable us to find out whether there has been a conscious shift towards these kinds of posts from the major blogging sites. There may be some correlation between Search Engine Roundtable's lack of list articles and the fact that they have the lowest share per article out of the blogs analysed.
What does this tell us? List articles get shares.
This article is just one of many which suggest that list articles get a lot of shares. Bloggers who are short on time may want to utilise this technique as they can be written much faster than a more in depth article. Note that articles which don't take a long time to write should still be high quality, useful pieces of content.
One final point… shares aren't everything!
Whilst this research might seem to suggest that higher shares equals a more successful blog, that isn't really the case. You could argue that Search Engine Roundtable are actually doing the best out of the blogs analysed, as they have positioned themselves as thought leaders within the search industry, as opposed to many of the other sites which offer more general management and marketing advice. This research doesn't analyse the amount of time spent on each page, or the amount of times a user returns to this page, which some may suggest is a far more useful metric.