First of all we'd just like to say a huge thanks to Sports Betting Community (SBC) for putting on this great event. It was their third year running this conference and it is a growing success.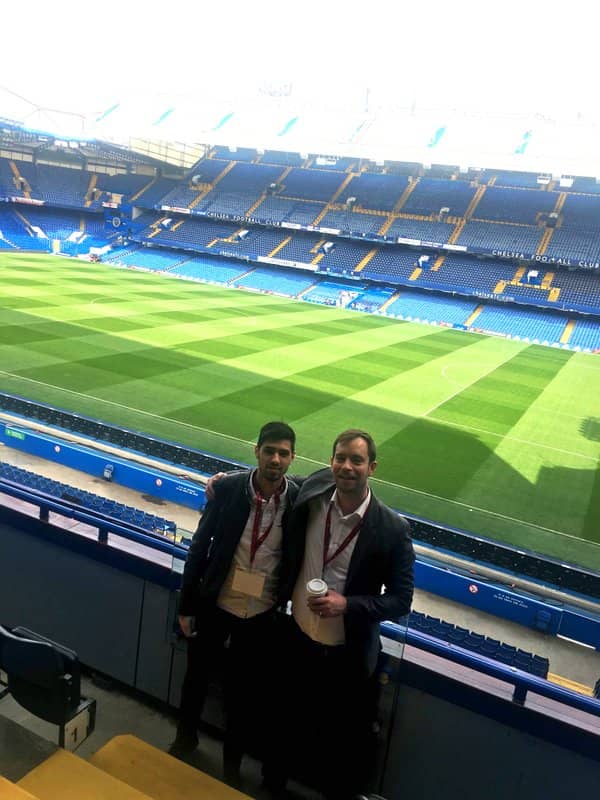 Being a full-service digital marketing agency we work with multiple clients across many different verticals, and we are no stranger to sports betting and casino companies. The Betting on Football conference seemed like a great opportunity to learn more about content marketing and social media within this industry. When we saw the opportunity to attend this event a number of hands went up in the office – but luckily, Richard and I were the lucky two that got the nod to head over to the Chelsea Football stadium, Stamford Bridge, for the day.
As marketers, we were extremely keen on getting tips and advice from some of the industry experts that have excelled in producing great content and mastered the art the of social media – and we were not disappointed.
The content marketing panel featured an impressive line-up, including Asaf Peled of 90min.com, Andy Meikle of Sportlobster, Jae Chalfin of GiveMeSport, Matt Wilson of Ball Street and Chris Duncan of Oddslife as moderator.
Why is Content Shared?
Matt Wilson talked about two main points; providing your audience with something they're passionate about, and ensuring the timing of the content is crucial. His message was that "if you're in that moment when something happens, you can achieve great things".
We loved the example given from Andy Meikle of Sportlobster, who said that "timing and relevance is everything", going on to explain a recent video they pushed showing Vijay Singh hit an unreal golf shot that skimmed across the water before going in.
http://https://www.youtube.com/watch?v=RLzX62nXPTo
What most people didn't realise is that this shot happened back in 2009. Because the video was pushed out just as the Masters 2016 was starting, this got so many shares that it went viral. Which shows that timing really is everything.
Trading Places Panel
Featuring Senior Odds Compiler at Super Soccer Jeevan Jeyaratnam, Paolo Personeni of Sportsradar and Nathan Rothschild, Co-Founder of iSport Genius, this particular panel focused on how has the availability of data affected trading patterns' panel.
Digital marketing, like the betting industry, is extremely data-driven with a host of tools enabling granular levels of detail and research. As such, we found a variety of interesting parallels between bookies locked in an arms race with punters and digital marketers trying to stay one step ahead of Google.
However, our main takeaway was in reference to betting firms inability to predict the Leicester city title win. Jeyaratnam dismissed that a review of data analysis techniques was needed and insisted that the club's performance is an anomaly and a blip. He said: "You can't go back and entirely reassess how you do things based off 30 odd games, and one season."
Betting like many elements of digital marketing needs large sample sizes to draw any meaningful data from it.
Lunch
Lunch arrived, and with it a chance to network. We spoke with some very interesting people; amongst those was Robbie from Arsenal Fan TV. He was more than happy to talk to us about how he's grown his subscriber base on YouTube from nothing to over 200,000, in just over 3 years.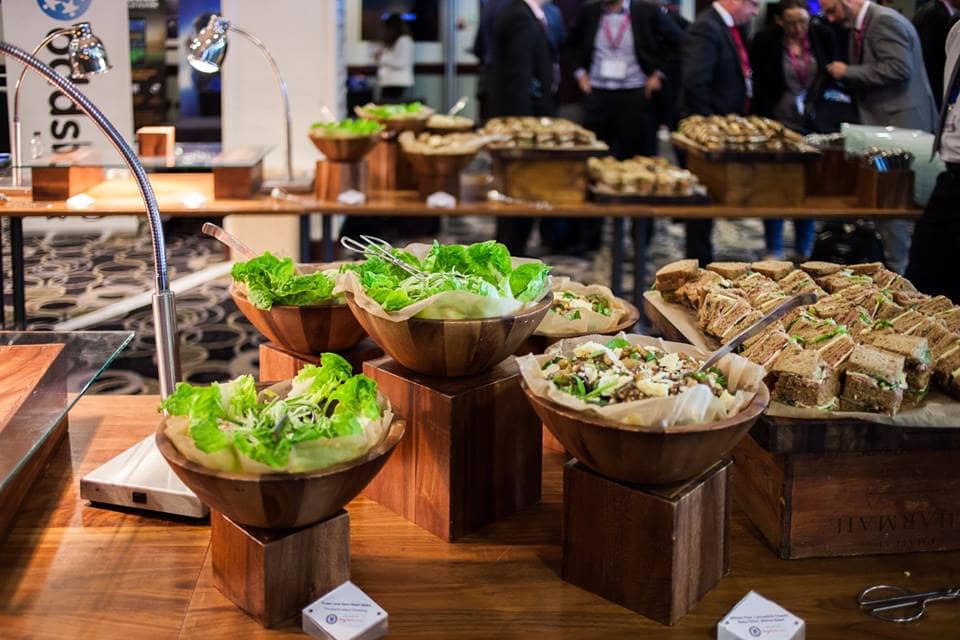 The importance of Social Media
All panellists agreed that social media should be more of a "friendly" channel where the brand builds a relationship with their customers, as opposed to "hard selling" – with Jae Chalfin stating that Millennials will "switch off" if brands push them too much via social media channels. Wilson agreed, and added the importance of having a friendly dialogue with customers, and how this can help if something goes wrong down the road.
People are often looking for ROI in social media. However, they are looking at social the wrong way – it's more about delayed gratification, and maintaining a relationship with the customers. A great analogy was used to compare social media to boxing – "it's more of a jab, jab, hook rather than going for the huge haymaker".
Matt Wilson touched on the importance of creating a brand perception. For example, Paddy Power have become synonymous with a humorous, often mischievous approach. They tried something different when all the other bookmakers were doing the same.
The Impact of Mobile Devices
How to provide engaging content via mobile devices was also covered, and Peled said customized push notifications are key. He said it's possible for brands to identify the customer's area of interest (for example the team they follow), and then use this information to retain the customer. Peled suggested sending notifications that go beyond raw scores and odds, with more of a focus on breaking news about the team. "It's a lot of work to customize, but very successful", he said.
Personalised push notifications are the most important thing when engaging with mobile users. First you have segmentation, a level further is customisation, followed by full personalisation. Fully personalised push notifications are what brands need to be aiming for.
In the discussion about the live betting products, Bernard Marantelli, CEO and Founder at Colossus Bets, spoke about the importance of the load speed, stating that 'if the app doesn't load inside 5 seconds, you will likely choose another'. This can be applied to any company with an app.
Stadium Tour
After the talks were finished we were able to go on the stadium tour which was included in the ticket for the day. Laughter ensued when the tour guide asked our group of about 25 of us how many were Chelsea fans – you could hear a pin drop.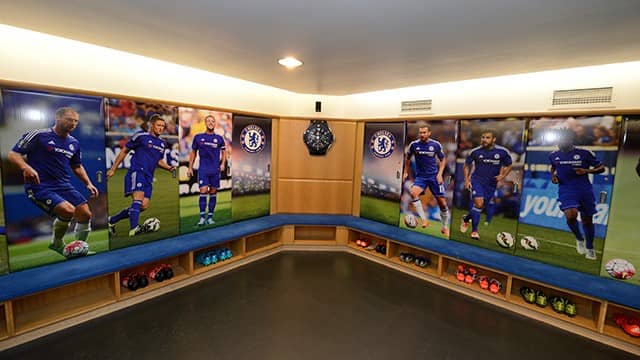 We got the see the changing rooms where the Chelsea players prepare themselves before the game, sit behind the desk in the press room and then walk down the tunnel and check out the manager dug outs.
Late Network Party
The evening drinks networking bar was a perfect way to end the evening. Betradar put on a Foosball Championship in which the best team on the night won the custom-made table. We weren't involved but it looked like it was getting pretty competitive over there!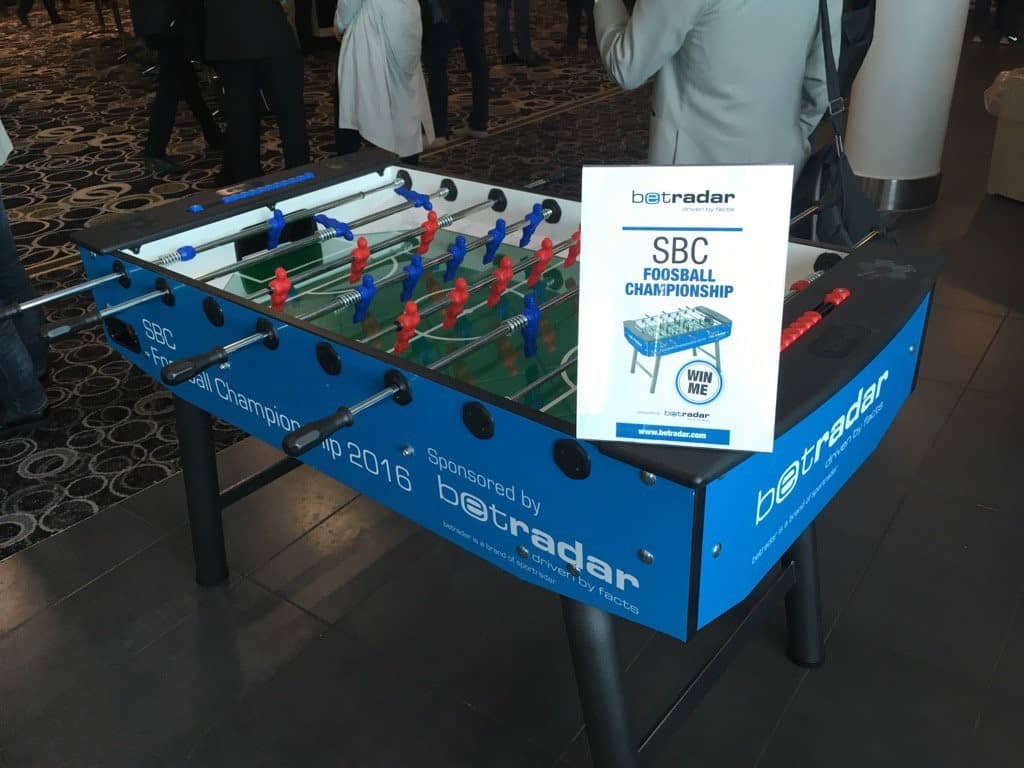 The real time in-play betting competition sponsored by Metric Gaming was great fun. Everyone who took part was given a virtual £11,000 on the app to start with. The best trader by the end of the Arsenal – West Brom game won Club Wembley tickets to the FA Cup Final. By half time we were one of groups of people frantically running around trying to find out the highest current total to decide whether we needed to stay on our current total or continue. Unfortunately, we didn't win the tickets but had a lot of fun in the process.
I'm sure we will be back next year to do it all again.