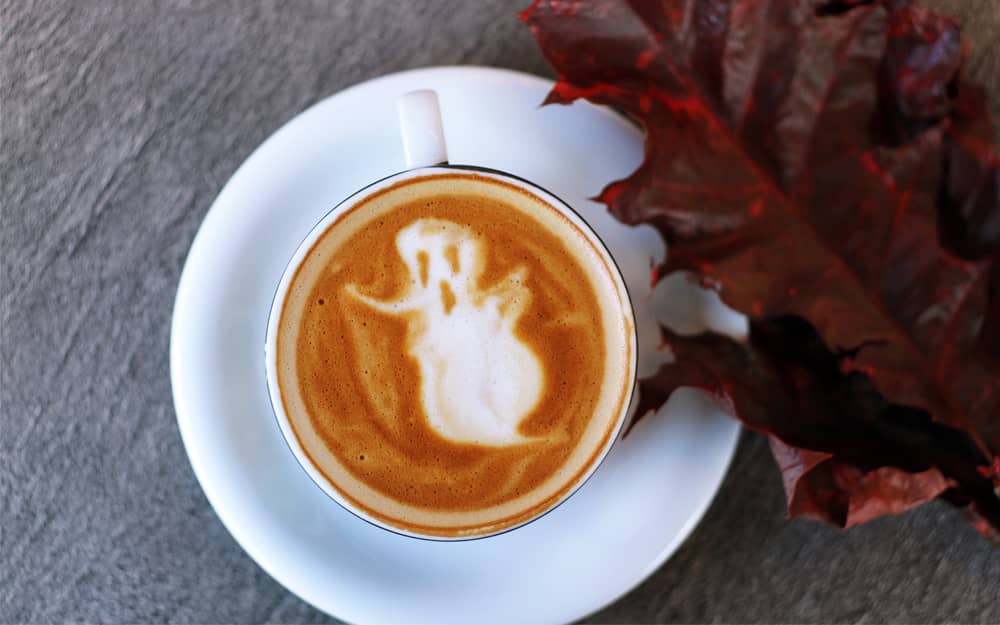 Happy Halloween! It's the holiday when social media turns into a real bloodbath, with carved pumpkins, spooky outfits, and creepy gifs taking over our Twitter feeds.
Goblins and ghouls aside, there's nothing scarier to digital marketers than a dead Twitter handle. So we've put together a list of quick fixes you can do to help make your Halloween Twitter campaign stand out from the rest during the holiday.
So read on for our 7 tricks and treats for Twitter you can use to increase engagement this Halloween.
1. Decorate your profile
Get into the spirit of things by adding a new header photo, background and theme colour. You can even update your profile photo with a new image, or a terrifying twist on your usual one (like Sainsbury's clever addition of a witch on a broomstick below)!
To ensure your new theme is aligned properly, check out this handy cheat sheet for up-to-date image dimensions for Twitter.
2. Utilise spooky emojis
Emojis are fast becoming a form of communication in their own right, and it's been proved that using them enhances user engagement on social media. So how should you use emojis on Twitter?
When you use emojis in your Halloween tweets, make sure they're relevant to the holiday – this list from Emojipedia will give you some inspiration if you're stuck on the ghost. If you're posting an image with your tweet try and match the emojis to create a colour scheme, which will increase visual impact.
Finally, remember that less is more. Using too many emojis in one tweet can be overkill – you want them to act as decoration to the text, and not distract from it.
3. Promote seasonal products
Whether you're offering your customers exclusive Halloween items in your physical store or online, make sure you promote them on your feed. Use high quality images to showcase your product, and combine with other methods in our list like using emojis and hashtags. This will increase the power of your post, and help your special products gain the attention they deserve!
You could also consider using the Twitter buy button to allow users to buy your products directly from the platform.
4. Use the right hashtags
If you're not already using hashtags on Twitter, then a holiday like Halloween is a great place to start! Including popular hashtags in your tweets increases visibility of your account, as this makes them show up on targeted Twitter searches. You can see what hashtags are currently popular with users by checking out the Trends sidebar, or searching for '#' and seeing what comes out at the top.
You can even create your own hashtag to drive users back to your page – just make sure it's short, sweet, and something people will want to engage with. If you just want to use existing hashtags, you don't always have to follow the crowd and post the same as everyone else – in fact thinking outside the box might make your tweet stand out more, as InStyle UK show below.
5. Hold themed giveaways
People love free stuff, so holding a Halloween giveaway on Twitter can do wonders for your follower and engagement analytics. The simplest way to do this is to post an image of the item up for grabs, and require followers to like and retweet the post, and follow your account, to be in with a chance of winning.
Holding a giveaway in this way will significantly increase your social engagement, but if you want it to increase your SEO value, you'll have to create a competition page on your site and link back to it. However, users may be more likely to engage with the like/retweet/follow method – so consider which metric you want to increase the most.
As a bonus, if you're using your own products, your giveaway can showcase your range for free and even lead to customers who missed out on the freebies buying them for full price!
6. Use your users
Not like that! If you want to feature more than just seasonal blog posts on your site, consider holding a Twitter competition to gain some user generated content.
So what is user generated content? Just what it sounds like – content generated by your users for you to post. By encouraging followers to send in their photos, you can gain free content for your site. Prizes can be offered as incentives too. It's really that simple!
One great way to utilise user generated content for a holiday like Halloween is to hold a photo competition, and feature the results in an online gallery. This could be for the most original Halloween outfit, most creatively carved pumpkin, or most terrifying decorations… whatever you think your followers will engage with the most.
7. Link back to content on your site
What would be the point of all your spooky social activity if it didn't link back to your site? Make sure you prepare for Halloween by creating blog posts in advance, and posting them in the run-up to the big day. By using a social media management tool like Sprout Social, you can schedule your posts to be published at different days and times to maximise impact.
Even if you don't have the time to create comprehensive Halloween guides, a quick way to generate content is in the form of listicles – the numbered list articles made popular by Buzzfeed. Listicles are highly shareable content when done right, so think about what your customers would be likely to share with their friends.
Conclusion
We hope we've inspired you to get into the spirit of things on Twitter this Halloween. Remember that it's always best to use a mix of methods on social media, so try a combination of our tips to maximise the impact of your campaign.