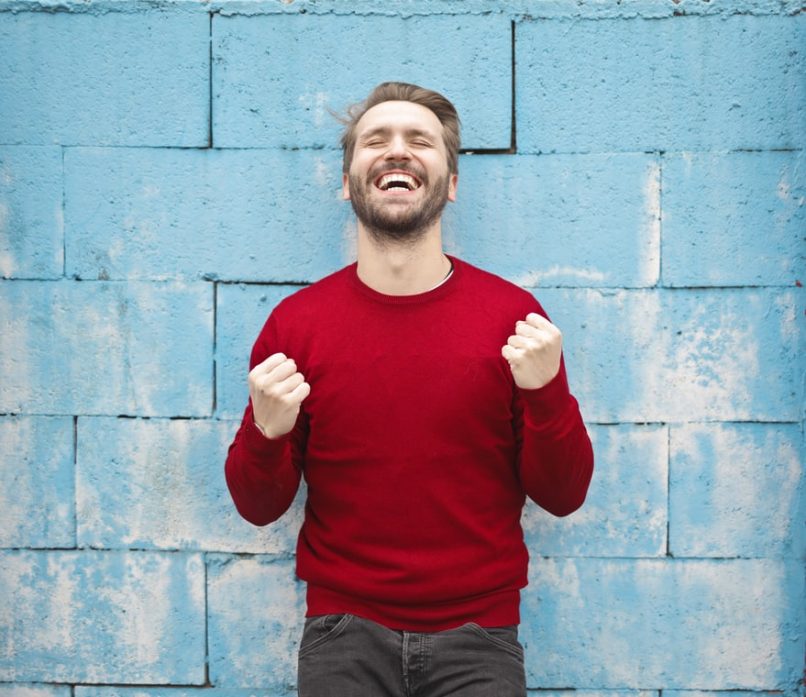 If you want to know how to improve your SEO rankings in 2020 and grow your business, you've come to the right place.
The search algorithm is a complex beast.
Google claims to use over 200 ranking factors when evaluating which pages rank as the best possible results for different searcher queries.
If you're relying on people to find you through Google search, search engine optimisation (SEO) needs to be at the top of your priority list.
You won't be able to drive sales if nobody can find you in the first place.
When it comes to determining what is THE ranking factor of 2019, the short answer is:
USER EXPERIENCE
This means that ranking signals are going to continue to adapt to the user and SEO professionals need to serve their customers in the best possible way and do it better than anyone else.
Search engine algorithms no longer just rate the relevance of your keywords and metadata, but they also evaluate user behaviour on the page when deciding what to rank. The information related to user behaviour includes dwell time, appealing design, mobile-friendliness and having an intuitive menu.
UX is not only a key to of a happy visitor, but it is also a very important SEO ranking factor.
Let's look into how you can actually improve the user experience on your website to improve your SEO rankings and grow your business in 2019.
#1 Create High-Quality Content
"Content is king" and "Create high-quality content" – we hear those slogans all the time.
But what does "quality content" actually mean?
High-quality content is content that achieves the goal you set for it.
That's all there is to it.
You may want your content to drive relevant high-volume search traffic or generate tons of social engagement or drive high-quality backlinks.
If your content achieves its goal, then it's quality content.
If your content doesn't achieve its goal, then it's not quality content.
Let's for a moment assume you want to create content to drive more high-quality search traffic.
For this to happen, your content needs to be better than the existing top-performing content for a particular set of keywords you are targeting.
But how do you go about outranking your top competitors for a particular topic or a searcher query?
The answer lies in understanding your customers better than your competitors.

What are the 3 main elements of high-quality content?
When we create an SEO content strategy, there are some elements that have to be in place.
These are:
1. Matching searcher intent (to increase dwell time)
2. Creating content pillars and topic clusters (to increase page rank and authority)
3. Creating the best page on the internet for the topic (to increase visibility)
Let's look into these 3 main elements of high-quality content in more details …
1) Importance of matching searcher intent
What is search intent?
Search intent is the goal someone has in mind when they type something into Google search.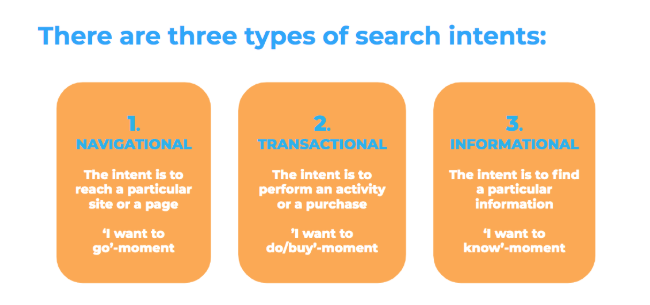 Understanding users' search intent is essential to creating pages that drive organic traffic.
Why is that?
Because Google ranks websites that best match the intent behind that keyword.
Let's look into it in more detail …
Let's assume you want to learn how to paint a house, so you type in "how to paint a house myself". This is clearly an informational query.
You are looking for information, so the websites that try to sell you paint at this stage and only provide minimal DYI information will not stand a chance to rank for that search query.
Instead, searcher probably wants to know their options, reviews and ratings for different products, understand the pros and cons, costs involved etc. 
HOW CAN WE HELP? We can help you to understand your target searchers intent by diving into Google Analytics User Flow and Site Search data to see what your users are looking for and build a data-driven content strategy that works.
2) Importance of content pillars and topic clusters
Pillar content (or cornerstone content) is a comprehensive and evergreen resource with detailed and in-depth information upon which your blog strategy is built.
The ultimate purpose of pillar pages from a business perspective is to serve as the >main lead-generation page for a particular service or product.
Pillar pages form the centre of your blog strategy and they can't exist without supporting content (also known as topic clusters).
Hubspot has a great visual representation of how content pillars are related to blog posts that support it: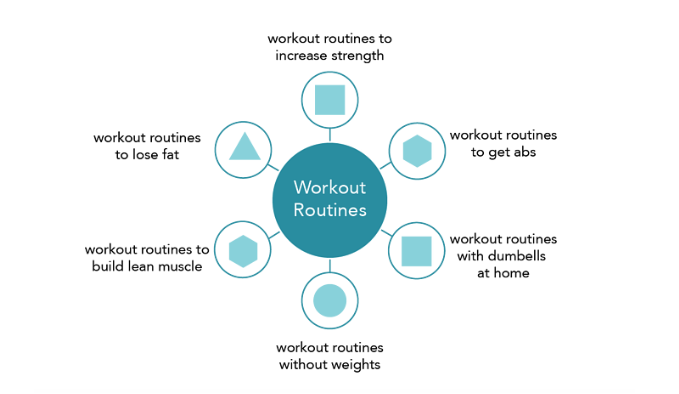 If your pillar page is "Workout routines", then your blog strategy should answer all specific questions people have about workout routines. These are "Workout routines to increase strength", "Workout routines to get abs" etc.
The pillar page with all its related blog posts forms a topic cluster. You can have multiple topic clusters.
The basic premise behind building content clusters is to enable deeper coverage of a topic, which increases the topical relevance and authority for the domain.
The purpose of a blog is to provide supporting content around each of your core pages, which help answer questions your audience might have.
HOW CAN WE HELP? We help you to create a sustainable content strategy by identifying topics that relate directly to your products or services and also have a direct appeal to your audience.

3) Importance of ranking in top results on Google
If you want to rank in top results on Google, your goal is to make the best page on the internet for that topic. You can't trick a robot. You have to provide value to people.
Why are the top 3 results so important?
It's because the top 3 results get 61.5% of all potential traffic and it quickly starts declining from there.
This means that if you rank on the 2nd or 3rd page of Google, you are virtually invisible.
Search optimised content can help you gain market share by being highly visible.
But how can you rank in the top 3 results for highly valuable keywords that bring in lots of traffic?
Your content has to be better than the current top 3 results.
In order to achieve this, you don't have to reinvent the wheel — you can just build a better version of what has already been proven to work.
Here's what you can do to outrank your competition:
Check all the Google 1st page results for your selected search query and try answering the following questions for yourself:
What are all the pages have in common? This indicates the essential information your content needs to include
Is searcher intent met comprehensively? You can only answer this question if you understand your target audience well
How long is the content? This should give you an indication of the word count
What formats are used to convey the information? Perhaps, you'll find that certain elements are easier to convey in a table, video or a graph
Is information easy to digest or does it require mental effort? Readability is what keeps people on the site longer, so make sure you use simple vocabulary everyone can understand
Does the content lack examples and details? If so, it's your opportunity to shine.
How many high-quality backlinks do the top results have? This should be an approximate indicator of how many links should you get in order to compete with the current best results.
Quality content is the number one driver of your search engine rankings and there is no substitute for great content.
Hopefully, the questions above can help you with creating high-quality content.
HOW CAN WE HELP? We create short-term and a long-term SEO content strategy. To achieve quicker results, we purposefully target keywords that are highly relevant to your business and customers but have low to medium keyword difficulty score. This will help us to start small and grow big.

#2 Create Emotionally Appealing Content
At Digivate, we are obsessed with digital consumer behaviour because it helps our clients get better results while spending less money.
Scientific research about the human brain shows that 95% of decisions are driven by emotion rather than logic, which is why we always try to create emotionally appealing content.
The best converting content speaks to people's emotions rather than rationale.
If you deeply understand your audience's emotional experience at each stage of the buyer's journey, you can consistently create high-quality content that not only sits at the top of Google but also drives sales.
The key is to identifying automatic reactions that tend to be universal across all human beings as well as understanding your market's deepest hopes, fears, and dreams.
HOW CAN WE HELP? All Digivate teams go through a comprehensive consumer behaviour training assuring our clients get better results while spending less money. We also have access to the latest neuroscientific research about human behaviour online. We use the consumer psychology data as a competitive advantage in our digital marketing.
#3 Site Architecture and Navigation
Site architecture and navigation is the foundation of your SEO.
Poor website structure and information architecture can doom even the best SEO campaigns.
When visitors can't find what they need on a website right away, they most likely leave the site and never return.
On the other hand, a well-thought-out site architecture reflected in clear navigation is critical in helping visitors find what they want on your site, accomplish their goals and come back repeatedly (repeated visits, dwell time, low bounce rate improve SEO ranking.)
As a general rule, your site should not have more than 3 clicks to the deepest level.
Here is a visual representation of the best site architecture by SEO Gadget: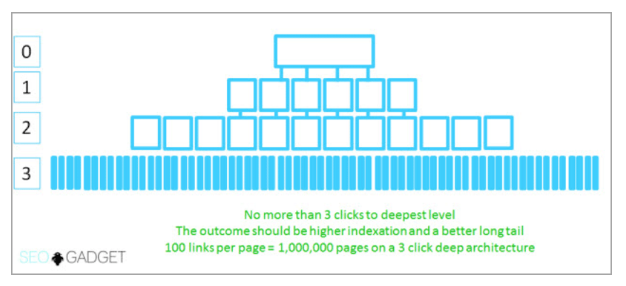 HOW CAN WE HELP? Our SEOs, web developers and designers work together to build a website that is easy to navigate, delightful to look at and highly visible on search engines. 
#4 Earn High-Quality Backlinks
Links are continuing to be one of the main ranking factors in 2019.
High-quality backlinks are an important ranking factor because Google treats them as a vote of confidence and endorsement. If other high-quality publications link to you, it is an indicator to Google that you are reliable and relevant.
Reliable and relevant content is likely to rank higher.
Let's look at some of the powerful link building strategies we use at Digivate:
Research and survey results
Conducting surveys and publishing stats that have an element of surprise has the most potential to earn links in your industry, because when people state something bold they need to back it up by linking to the source.
Case studies
If you have achieved exceptional results by doing something different, you could help others by publishing a case study. If it's an original and new way of solving a problem, people will write about it and link to it.
Expert roundups
We run some monthly expert roundups for a few of our clients. We focus on valuable information that can't be found anywhere else. These posts get shared across social channels more than regular posts and can also generate more backlinks.
HOW CAN WE HELP? We are the members of IPA with access to original research data that isn't available to the public. This assures we are able to create research-driven content that attracts links.
#5 Make Your Site Mobile-Friendly
Mobile use is on the rise.
In fact, over 60% of Google searches come from mobile devices.
In the age of the mobile-first index, your mobile website is the lifeblood of your existence in the SERPs.
To stay alive, follow Google's guidelines and make sure your content matches identically on your desktop and mobile.
Benefits of working with Digivate
SEO is the best long-term investment for your business – there is no doubt about it.
We have a long track record of success working with clients across fashion, finance, tech, health, and wellbeing.
We don't work in silos – all our teams work together to grow your business.