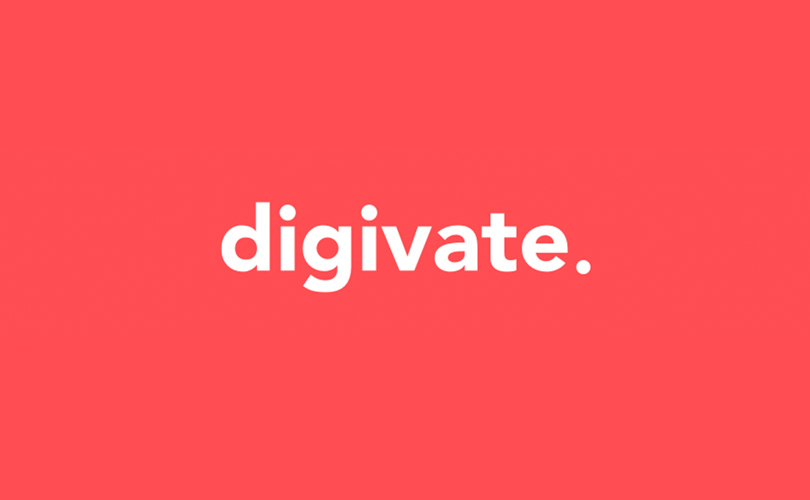 If you're a senior marketer then probably you urgently need to read this.
FACT: search engines have been around for the best part of 20 years. If you haven't got a well-established search engine marketing strategy then you are two decades behind the game and you urgently need to adapt or your business will fail. It's as simple as that.
FACT: Social media has already been around for more than 5 years – that's a long time in the world of technology…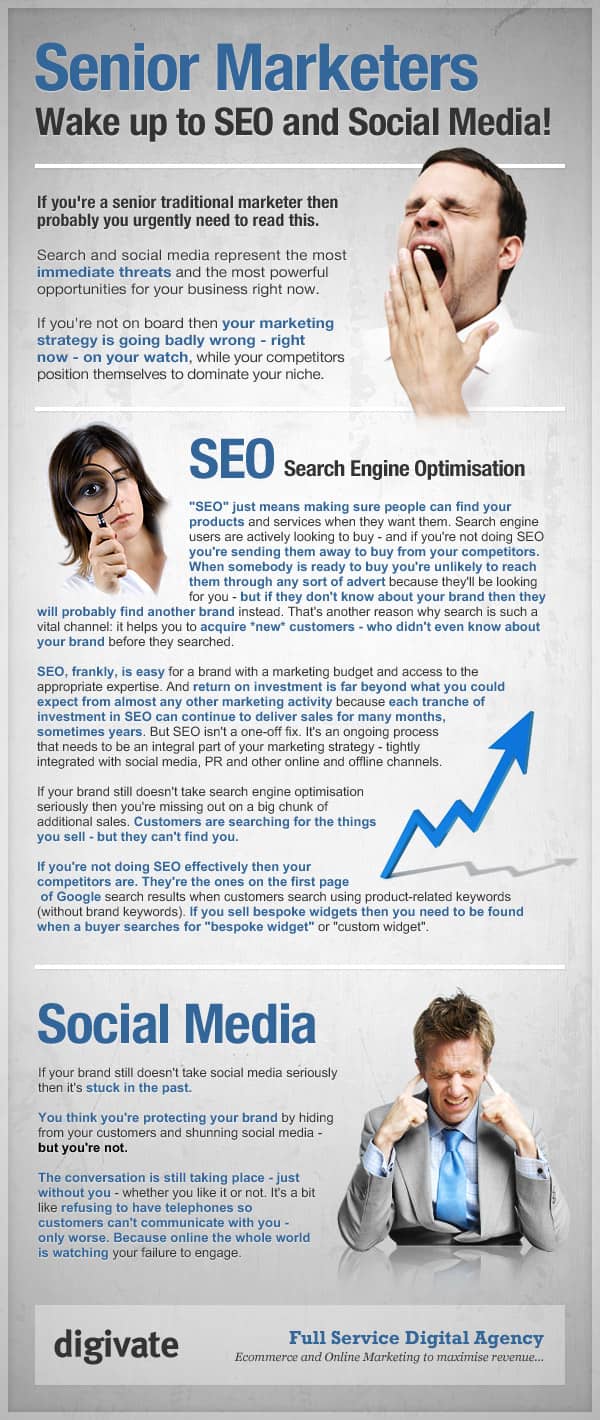 The graphic above summarises just how important search and social media strategies are for your brand.
Effective strategies for using web technology – including search engines and social media – are essential to your business. Search and social media represent the most immediate threats – and the most important opportunities – for your business right now. If you're not on board with search and social then your marketing strategy is going badly wrong – right now – on your watch. Meanwhile, your competitors are positioning themselves to dominate your industry over the next five years. You will simply be left behind.
Imagine if you were the only firm in your industry without the ability to handle telephone calls or emails from customers: how long do you think your business would last?
But customers have been using search engines and social media to communicate for many years too. You're shutting your brand out of their lives by failing to reach them properly in search – or engage with them effectively through social media.
SEO (Search Engine Optimisation)
"SEO" just means making sure people can find your products and services when they look for them online, even if they don't know your brand. Search engine users are actively looking to buy. If you're not doing SEO then you're sending them away to buy from your competitors.
Many searches are done with product keywords – not a brand name in sight. Search engines are vital for acquiring *new* customers – people who may not even have been thinking about your brand before.
SEO is easy for a brand with a marketing budget and access to the appropriate expertise. And return on investment is far beyond what you could expect from almost any other marketing activity because each tranche of investment in SEO can continue to deliver sales for many months, sometimes years. But SEO isn't a one-off fix. It's an ongoing process that needs to be an integral part of your marketing strategy – tightly integrated with social media, PR and other online and offline channels.
If your brand still doesn't take search engine marketing seriously then you're missing out on a big chunk of additional sales. Customers are searching for the things you sell – but they can't find you. If you're not doing SEO effectively then your competitors are. They're the ones on the first page of Google search results when customers search using product-related keywords (without brand keywords). If you sell bespoke widgets then you need to be found when a buyer searches for "bespoke widget" or "custom widget".
Social Media
If your brand still doesn't taking social media seriously then it's stuck in the past and incapable of engaging effectively with customers. You think you're protecting your brand by hiding from your customers and shunning social media – but you're not. The conversation is still taking place – just without you – whether you like it or not.
Not using social media properly is a bit like refusing to have telephones so that customers can't communicate with you. Only with social media it's much worse – because online the whole world is watching your failure to engage with customers.
The web is not just a new way to deliver traditional marketing strategy. It's a complete game-changer. The ways in which consumers and business buyers research, buy and communicate are completely different now.
The pace of technological change continues to accelerate. The next phases in the game will include the dominance of mobile devices and the emergence of mainstream social commerce. Customers will buy through Facebook using their mobile phone or tablet.
Meanwhile, the whole relationship between businesses and consumers is being transformed. The fundamental concept of the brand now encompasses the whole global community's perception of the business.
Tomorrow's brands will be designed and created by customers. Brands will be unable to survive without mass-approval, no matter how inspired their creators may be (and if that doesn't scare you, nothing will).
If you're not using search and social media to connect effectively with the people who really have the power to make or break your business, then you need to start right now. Today. Before you do anything else.
Fortunately at Digivate we have many years of experience in helping brands develop and implement effective search and social media strategies. As a leading digital agency we keep up with the latest trends for you. We work closely with you, your team and your partners to make sure your business stays ahead.