The rapid increase in not provided data in Google Analytics poses many questions for SEO agencies. How can we see how our work has translated into results? How are we able to spot new keyword opportunities? Ultimately, how do we show clients that the work we do provides value?
These were the questions we at Digivate immediately asked ourselves. This article is all about how we have answered those questions with the help of our friends at Trackpal.
Trackpal have helped us create a brand new reporting solution which analyses SEO performance in a completely new way. So far, clients have loved the new reports as it accurately demonstrates the work we are doing and the effect it is having on organic traffic and revenue. Below are just some of the elements of our new report:
Estimation of Traffic and Value from Keyword Rank Positions
By analysing both PPC recommended bids, monthly search volume and keywords rankings we are able to report on how valuable a certain keyword is.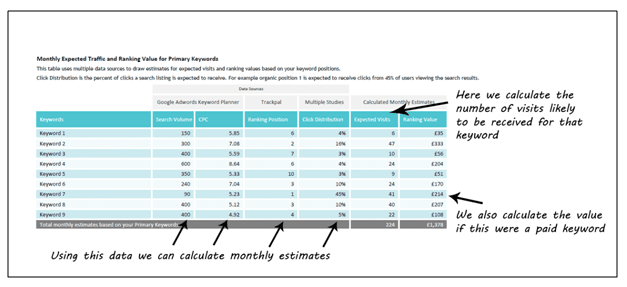 Whilst this data only provides an estimate, we have found that by analysing monthly fluctuations we are able to analyse which keywords are becoming more or less valuable. This is essential for deciding on which keywords to target in the future.
Rankings and Landing Pages
If a landing page has got particularly strong statistics (CTR, pages visited, conversion rates) we will make targeting relevant keywords to this URL a priority. By analysing the affect that a particular keyword ranking has had on traffic to an individual URL, we are able to get further insight to the value of that ranking.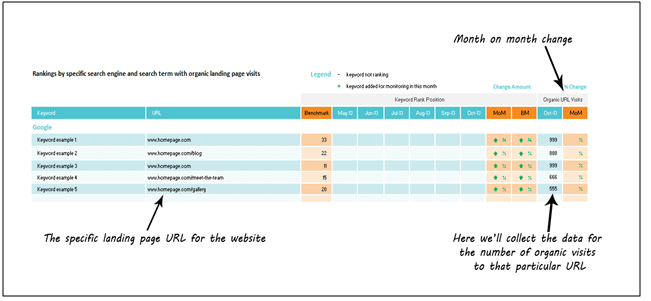 Landing pages are a major part of our new reporting solution. Analysis of landing pages by page views, conversions and revenue allows clients to clearly see the effect that SEO is having on their site.
These are only a few of the new ways in which we are now reporting. In future months we will be developing the solution further, with more information from AdWords and Webmaster Tools being analysed in order to give clients a full understanding of the benefits of SEO.