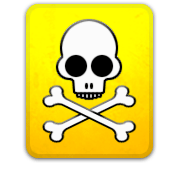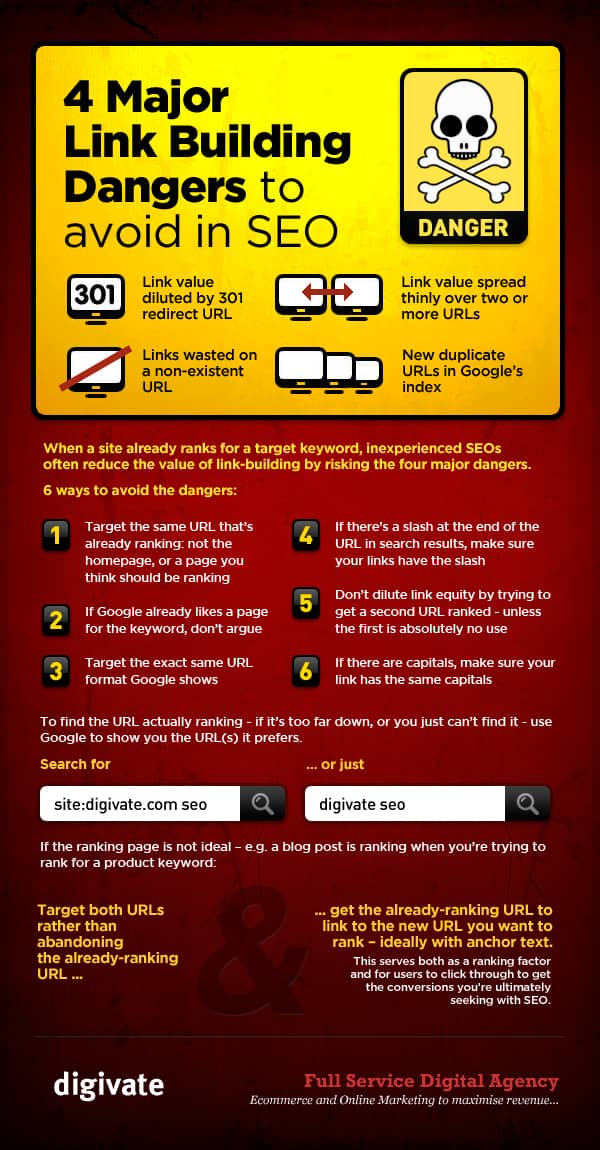 When a site already ranks for a keyword you're targeting
Make sure you:
Target the same URL that's already ranking: not the homepage, or another page you think could rank – unless the other page is more relevant
Target the exact same URL format Google is showing. If there's a slash at the end of the URL in search results, make sure your links have the slash. If there are capitals, make sure your link has the same ones. The URL in your links should be precisely the same as the URL in Google's index.
The 4 Major Link Building Dangers
Link value diluted by a 301 redirect that automatically corrects the URL.
Link value is spread thinly over two (or more) URLs and hence diluted.
New duplicate URLs in Google's index risk future links being split over different URLs. Duplicate content can also harm other aspects of SEO campaigns and is a factor in Panda/Farmer.
Links are wasted on a non-existent URL. If the URL is not correct then it may not even exist. Links built to the wrong page have less SEO value.
To find the right URL use a Google search
The right page or URL is usually just the one Google is using (unless you've done something wrong and Google is using the wrong URL).
To find the best page just do a search to find the URL that's actually ranking best.
If the page is too far down, or you just can't find it, the next best thing is to use an operator to show you the URL(s) Google likes best. Results will be returned in Google's order of preference.
For example, to find the site on digivate.com Google likes best for the keyword SEO…

Just search: site:digivate.com seo
or just: digivate seo
If Google already likes a page for that term, don't argue with Google and target another page! That's stupid. You'll dilute link equity by trying to get a different URL ranked. It's nearly always best to target the page that's already ranking highest for the keyword – unless the one they like is absolutely no good whatsoever.
Even if the ranking page is not ideal – e.g. a blog post is ranking when you're trying to rank for a product keyword – you're better off getting a link to the product into the blog post. If you really need to target a different URL then try to do both of these things:
i. Target both URLs rather than abandoning the already-ranking URL and
ii. Get the already-ranking URL to link to the new URL you want to rank – ideally with anchor text. This serves both as a ranking factor and for users to click through to get the conversions you're ultimately seeking with SEO).
Focus all your search engine optimisation efforts on a single page, with laser-like precision and your efforts will yield maximum results.
To make sure your link building campaign is executed perfectly, use a good SEO agency. A good agency has the knowledge and experience to attend to every detail of your campaign and its integration with your whole marketing strategy – offline as well as online.
Make sure you know how to spot a bad SEO agency. Good SEO is the best use of your marketing budget, but a bad agency is at best a waste of money. At worst it poses a serious threat to your website traffic and your brand's good reputation: in short, bad SEO is a threat to your entire business.
SEO is complex and creative. It's an art and a science. If you need help making sense of it, just give me a call, or even pop in for a coffee. I'm not a salesman, I'm a marketing professional and I'm here to help you. I'm Head of SEO and Social Media at a London SEO Agency