2014 is coming to a close and as the year ends we thought we'd take a look at the biggest SEO news stories of the past 12 months.
As usual, first up it's the
Algorithm Updates
Each year the Algorithm updates dominate chatter amongst marketers as we work to anticipate the upcoming releases in advance. This year there were some big releases, and the long-awaited Penguin 3.0 finally rolled out. Here are the release dates:
Top 10 News Stories
1. Guest Blogging is Dead!
That's right, Matt Cutts' now infamous blog post went live on January 20th and it caused a storm in the SEO world. It was all anybody could talk about for weeks. Entire marketing strategies had to be redesigned around the announcement.
2. Right to Forget
A landmark ruling from the EU means that Europeans can now apply to have personal data removed from the Search Results Pages. Thousands of Europeans have since applied to have personal information removed.
3. Google Finally Releases Penguin 3.0
Ok, so we might have already got this in the algorithm updates section, but it was such an anticipated update that we felt it needed two mentions. It had been over a year between updates and people were getting antsy but, despite high expectations, the overall consensus amongst marketers and webmasters was that Penguin 3.0 was (as said by SEO giant Bruce Clay) "overwhelmingly underwhelming".
4. Mobile Overtook Desktop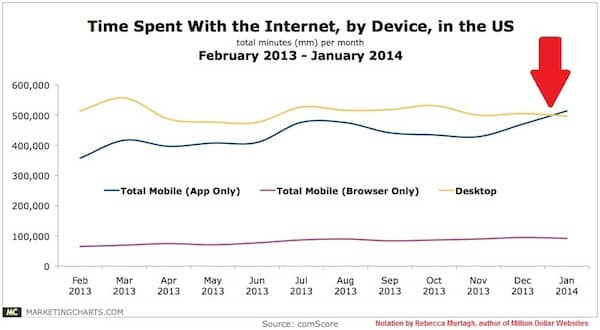 For the first time ever, internet usage on Mobile devices exceeded PC usage. Since then we've seen no end to posts about Mobile design and Responsive design with Google also introducing a label on their results pages to say whether websites are Mobile friendly or not.
5. Authorship is Dead
After a three-years-long experiment, Google finally dropped Google Authorship for good on August 28th. Google began by removing photos from Authorship earlier in the year and low adoption rates were the final nail in the coffin.
6. Firefox Drop Google in Favour of Yahoo!
In what was seen as a pretty crazy move, Firefox removed Google as the web browser's default search engine and replaced it with Yahoo! Mozilla say that they are simply trying to promote choice for users. Elsewhere around the world, Firefox's default search engines in Russia and China will be Yandex and Baidu.
7. New Google Users are No Longer Required to Create a Google+ Account
Questions have been raised countless times as to what the actual active user numbers on Google+ are since the network integrated with YouTube. Many believe that the majority of active users are actually activities taking place on YouTube. In September, Google removed the requirement to set up a Google+ account with new Gmail accounts. Could this signal the end for Google+?
8. The World's First Dedicated "Adult Entertainment" Search Engine
That's right, unlikely as it may seem, a dedicated Porn Search Engine launched on September 15th. Its name? Boodigo. With new algorithms that demote adult content to the bottom of the SERPs, Boodigo could see an uptake from related businesses using their service.
9. Matt Cutts Went on Leave
Yes there's a second entry for Matt Cutts on here. In July Matt announced that he would be taking extended leave from his work at Google and the SEO world rejoiced! Just kidding. Despite assurances that he would return, at the time of writing Matt still wasn't back in his old job and many speculate that he won't be coming back at all.
10. Google Killed Orkut
On June 30th Google announced that they would be shutting down their very first Social Network, Orkut. Whilst it never really took off in Europe and the US, Orkut was huge in India and Brazil but in 2012 users started to drop off.