Facebook has Siri and Google Now in its cross-hairs as it attempts to muscle in on the market for intelligent personal assistants. "Bots for Messenger" was recently announced at company's annual developer conference F8, presenting new opportunities for businesses to build their own chat bots to deal directly with customer enquiries.
The video accompanying the announcement illustrated some uses of Messenger Bots which included expected features such as checking weather updates and flight details, alongside more novel functionality like pulling the availability of local hotels according to location and receiving summarised versions of the day's news stories.
Messenger at F8 from Facebook.
Messenger Bots are built on Facebook's Messenger Send/Receive API and allow for "interactive rich bubbles" which can contain images, videos and web links. For businesses creating their own bots on the platform, this presents new opportunities to have direct conversations with customers at the time they'd most like to speak. A company like Moonpig for instance, could use a bot to automatically serve people looking for flowers and greeting cards on Mother's Day.
EHD Takeaway
The idea of bypassing entire slices of the classic conversion funnel is as exciting as it is ambitious. Every company would love the ability to pop up and instantly serve a consumer's needs. The reality of this transactional process however, relies almost entirely on relevancy. This works both ways, with Messenger Bots providing relevant answers to relevant questions. If either side of this conversation breaks down, the interaction becomes wasteful for businesses and intrusive/spammy for consumers.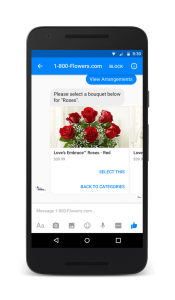 The automated nature of Messenger Bots presents a real risk of this becoming a common occurrence, particularly as the range of queries become more complex. In the example above, can a Messenger Bot account for the type, colour and scent of flowers a person is looking for? Does this depend on the scope of Messenger as a platform or the sophistication of the bot itself? The lack of option to carry out credit card purchases within Messenger means that a consumer in this example would have to define the specifics of their order on Moonpig's full site. Has there really been any time and effort saved in this instance?
Automation also presents opportunities of course, particularly with regards to long term AI learning. We all know Facebook is sitting on a mountain of data from the 900 million monthly active users which use Messenger, and there's no doubt it will be put to good use when helping companies evolve their Messenger Bots to become more conversational and personalized. The obvious goal of this after all is to remove any obvious distinctions between a living, breathing customer service representative and a canny robotic AI.