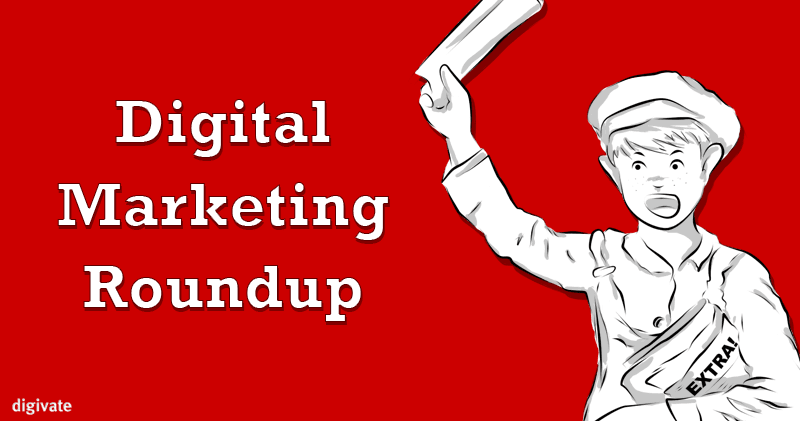 Today we present to you the latest, most relevant digital marketing news. As you can probably already tell we are passionate about Digital marketing (the clue is in our name), and we keep our passion alive with daily news updates. Here is what we found relevant in the Digital World this week:
No money equals less data according to Google
A couple of weeks back it was made apparent that Google had placed a restriction on keyword data from the Adwords Keyword Planner. Google have recently confirmed these changes and have made it clear that inactive accounts or accounts with a smaller monthly budget will be impacted. Some of the impacts include only being able to view a range of average monthly results rather than a list of figures. Google are yet to announce what the minimum ad spend is for advertisers to keep the most detailed data. Do these new changes from Google impact you in ways you perhaps hadn't expected? Do you think this is fair for them to give the edge to only the companies that can afford it?
Facebook makes another attempt to show that they aren't Snapchat copycats
Facebook has made it clear that 2016 will be the year of video perfection. When they launched Facebook Live they were labelled Snapchat copycats but they continue to strive to be more than just a video producing app. Facebook recently stepped things up in the area of analytics by adding demographic, geographic, live engagements and share/cross-posting data to their video metrics. These new metrics will allow marketers to gain a deeper understanding of the viewer, enabling them to better feed their audience. It is questionable though as to whether Facebook has hit a home run with marketers.
Pinterest decides to enter the ad auctioning world and compete with Google and Facebook
Pinterest has opened the doors for US, Canadian and UK advertisers to start buying ads based on impressions rather than engagement. At present, advertisers can purchase ads on a cost-per-click and cost-per-engagement basis, but with this new feature, the advertiser will be able to gain more impressions or cheaper ad prices through a bidding auction. Over the last few months, Pinterest has grown their advertising platform and become a clear competitor to Google Display Advertisement and Facebook Ads. Do you think they are too late or they have made it just in time?
Moz fires employees to prove that they care about Search
Last week we saw Moz, the SEO friendly company make a 360 turn in order to make Search their primary focus. The CEO Sarah Bird made an informed decision to drop the Moz content, Followerwonk products and also reduce their workforce by 28%. Although these decisions have been difficult for the company it will allow them to deliver better search tools for their users. This decision has almost created a domino effect with Raven following suit and also reducing their employees to focus more on search. Sad times for Moz employees but does this mean that we will actually get more from Moz now?
The Pokémon Go commentary continues… are you bored yet?
Earlier this year we saw a major disruption in the gaming world over the launch of Pokémon Go in July 2016. It is questionable as to whether this disruption is just a fad as already we see a decline in the daily active users (though apparently not in Taiwan, where stampedes occur over a Snorlax). In addition to this, Google Trends data shows a decline in augmented reality but an all-time high in virtual reality.