The Digivate team love to keep up with the latest industry news. We've searched the web and compiled a round-up of the top PPC news from some of the best blogs from the first 3 months in 2016.
Ads on the right hand side of the page
On February the 19th it was confirmed that Google will be removing ads from the right side of its desktop search results and replacing them with additional ads on the top and bottom of the page. There will now be up to 4 paid ads above the first organic listing and a total of 3 at the bottom of the results page. Google has stated these are for "highly commercial queries,"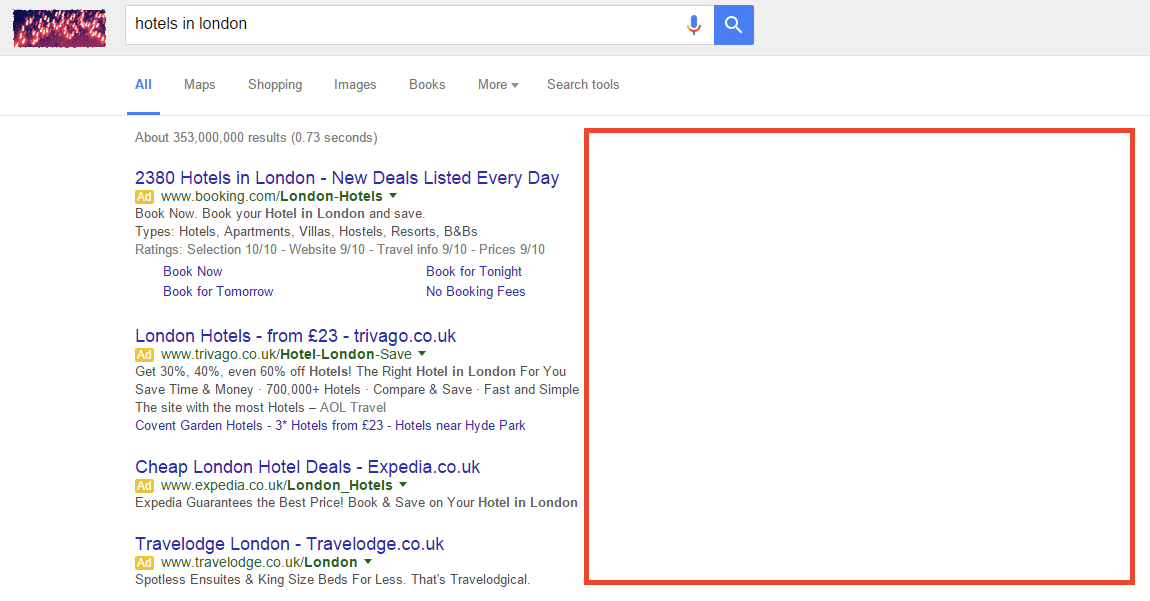 After Google dropped the right hand side advertisements from desktop, Accuracast have analysed the impact on CTR during a 7-day period before and after the change in advertisement placements for Google desktop search.
The research shows that there has been a large increase of 18.2% for ads in position 4 for desktop search. This was accompanied by substantial increases for position 1 (8.4%) and position 2 (7.7%). Interestingly, position 3 is the only position that saw a decrease in CTR.
Google Tests Scrollable PLA Carousel & Numbered Rankings
An arrow appears to the right of a PLA block that appears at the top of the mainline results. Once you finish scrolling, the arrow appears on the left side of the ad block.
This is almost identical to the carousel we see on mobile devices when looking at the search engine results page. It appears that Google are trying more and more to bring in line mobile SERPs with desktop SERPs.
Google Introduce Ranked PLAs for "top" and "best" products
Early on in March, a test that first started in 2014 rolled out of testing. Now, when a search includes a qualifier like "top" or "best," the product listing ads will most likely be ranked.
In comparison, we can see what it looks like on mobile below. Instead of numbers in grey circles, ads are ranked by 1st, 2nd and 3rd with bright blue flag icons.
How does the ranking work? Google clarified on Twitter that once the top rated products are selected, the rank is determined by the same factors as a regular PLA auction. So the number one, or first ranked, ad isn't necessarily the product with the best rating.
Google launch AMPs
In October 2015, Google announced the introduction of its Accelerated Mobile Pages project, a new open-source initiative aiming to "dramatically improve the performance of the mobile web." This new project brings a new coding language (AMP HTML) to the table, which works by restricting code to increase loading speed and reliability. Support has grown rapidly from publishers, technology providers and developers worldwide including the BBC, Twitter, Adobe, New York Times, News Corp and Washington Post to name a few.
The speed of loading, which is seriously rapid, will also provide the biggest clue to the fact that there is something different about the page; note that AMP pages have had many of the elements that contribute to slow loading times removed, allowing the page to load up to 85% faster than non-AMP pages).
How does it affect PPC?
Google confirmed that it will still be providing adverts within the AMP pages – however, the advertisements will be 'stripped down' and much more 'lightweight'. AMP will greatly improve the user experience for mobile users due to the quick load speeds. This could well lead to an increase in conversion rate, something to keep an eye on in the next few months!
Google Announces New Version Of AdWords UI
At the end of March, Google announced an upcoming upgrade to the AdWords user interface. The new UI will be gradually rolled out over the next few months.
Don't panic! It's not an overhaul, it's to streamline workflow, deliver a more modern look and feel, and make management of AdWords digital marketing campaigns easier.
All existing settings and features will be maintained, but many will be rearranged in order to provide an easier-to-understand workflow. Basic users aren't the only ones who will benefit from this improvement. Advanced users will be able to more quickly identify insights and take action on them without nearly as much busywork and clutter, creating much more opportunity for digital marketers to become more strategic.
Google testing Sitelink extensions
At Digivate we love sitelink extensions, we've seen impressive CTR and conversions rate increases when using them. Which is why we are extremely interested to hear Google were tweaking them ever so slightly.
Serptests (an industry blog) spotted that Google have been experimenting with bullet points in between sitelinks instead of the usual hyphen.
We're not entirely sure how much this minor change can affect CTR but if there's one thing we can be sure of, the people at Google love a test!
Blogs featured
Here's a list of the blogs featured in our Q1 PPC round-up.