In 2015 Google confirmed that mobile search queries exceed those on desktop. Google has continued to adapt its search in line with this trend, most recently with the introduction of Accelerated Mobile Pages (AMP).
Accelerated Mobile Pages (AMP) are specifically designed to simplify mobile pages and to make it easier for publishers to create content for mobile devices. AMP is an open source project that will take content from publishers and automatically optimise it for mobile devices. Google claims that websites signed up to AMP would see their content load significantly faster, estimating a speed increase of 15% to 85% faster versus a non-AMP page.
AMP explained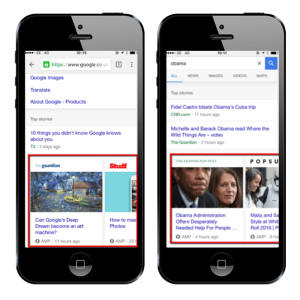 Accelerated mobile Page work by Google caching articles from publishers after removing unnecessary pages features. It relies on a specific form of HTML called AMP HTML to strip down the presentation of content to make it load faster on mobile.
AMP is Google's way of fast tracking content on mobile devices. AMP pages will be displayed in carousel of swipeable images and load above paid ads displayed on mobile. The articles open almost instantaneously and can be swiped between in a manner similar to Flipboard.
AMP content will have the advantage of being shown at the top of Google searches. This will benefit content publishers because their content will be more visible to users in Google's search results
Google has also said converting pages to AMP format will satisfy their "mobile–friendly ranking signals", allowing AMP pages to rank higher than standard mobile search results. They also recently launched Google analytics and Google search console support for AMP pages to enable content publishers measure their best performing content and optimise their mobile user experience.
With mobile searches officially overtaking desktop as of May 2015 we can only imagine that mobile will continue to grow and more people will use mobile devices than PCs to browse online. There will be a significant portion of traffic losses for content publishers whose mobile content is not optimised with AMP.
If you publish blog posts on your website and get significant amount of mobile traffic, but haven't yet enabled Accelerated Mobile Pages, now is the time to act.