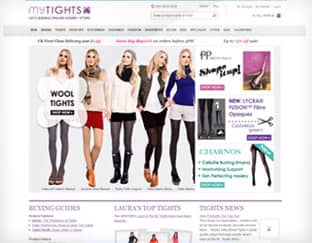 MyTights.com, a leading online specialist of everyday and fashion hosiery providing affordable and high–end fashion brands across the UK, Europe, USA and Australia.
The Brief
MyTights.com chose Digivate with the requirement of achieving a strong and industry leading presence on both natural and paid search.
The partnership which began in late 2009 was put in place with a paid search CPA target that was incentivised through a bonus structure.
The aim of the paid search campaigns was to achieve a 20% year on year growth from paid search, whilst reducing their cost per acquisition and to be done through the use of the three major search engines, Google, Yahoo! and MSN.
The Results
Since Digivate has begun managing the PPC activity, MyTights.com has found paid search become one of the most valuable sources of revenue to the site. This was accomplished through careful keyword analysis and expansion alongside conversion analysis using the site's web analytics data; Digivate achieved a 30% increase in conversions over the sites slowest quarter and consistently bettered the original target CPA by over 20% throughout 2010.
Over the past 12 months Digivate has exceeded MyTights' expectations not only by achieving a rate of growth beyond their objectives but also reducing costs; this has resulted in MyTights.com to continue its partnership with Digivate as its search agency throughout 2011.